Drugs
Amoxicilina 500mg Capsules: Uses, Side Effects, Dosages
When deciding to use amoxicilina 500mg capsules, the risks of taking the drug must be weighed against the benefits it will do.
You and your doctor will make this decision.
The conditions listed below should be considered when using amoxicilina 500mg capsules.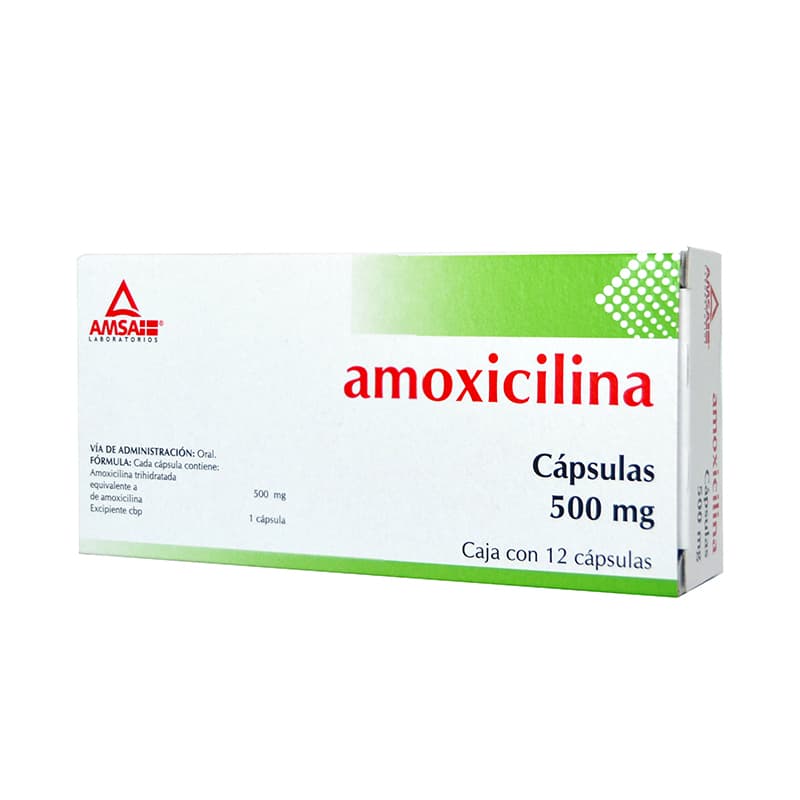 Allergy
Tell your doctor if you have ever had any unusual or allergic reaction to the active ingredient amoxicillin or any other medicines.
Also, inform your healthcare professional if you are allergic to animals, foods or dyes.
Pediatric
Scientific studies have not shown problems that would limit the use of amoxicilina 500mg capsules in children.
If your baby is newly born and younger than 3 months, talk to your doctor before using amoxicilina.
Seniors
Scientific studies have not demonstrated geriatric-specific problems that would limit the usefulness of amoxicilina capsules in the elderly.
If this drug is to be used in the elderly, it should be used with caution, and the doses prescribed by the doctor should not be exceeded.
If the dose is taken or adjusted incorrectly, kidney problems may occur in the patient.
Pregnancy And Breastfeeding
There are not enough scientific studies on women to determine the baby's age in the use of this drug during breastfeeding.
If you are breastfeeding, the potential benefits should be weighed against the potential risks by a doctor before using amoxicilina capsules.
Scientific studies on amoxicillin, the active ingredient of the drug, did not find any finding that would limit its use in pregnant women.
But look carefully at the other substances in the medicine and what is written in the instructions for use.
Other Drugs And Amoxicilina
While some drugs can be used together, some drugs can interact with each other and increase the risk of side effects.
However, in some cases your doctor may tell you to use this medicine with other medicines (even if interactions do occur in some cases).
If an interaction occurs, your doctor may stop the use of the other drug or change the dose.
It is important that your doctor knows if you are taking any of the medicines listed below while you are using amoxicilina.
Using amoxicilina capsules with any of the medicines listed below is usually not recommended, but may be required in some cases.
If your doctor tells you to use both drugs, he or she may change the frequency or dose of one or both drugs.
Chlortetracycline
Cholera Vaccine, Live
Demeclocycline
Desogestrel
Dienogest
Doxycycline
Drospirenone
Eravacycline
Estradiol
Ethinyl Estradiol
Ethynodiol
Gestodene
Levonorgestrel
Lymecycline
Meclocycline
Mestranol
Methacycline
Methotrexate
Minocycline
Mycophenolate Mofetil
Nomegestrol
Norethindrone
Norgestimate
Norgestrel
Omadacycline
Oxytetracycline
Rolitetracycline
Sarecycline
Sulfasalazine
Tetracycline
Tigecycline
Venlafaxine
Warfarin
Using amoxicilina with any of the following medicines may cause an increased risk of certain side effects, but using both drugs may be the best treatment for you.
If both drugs are prescribed together, your doctor can determine your frequency and dose of use.
Acenocoumarol
Khat
Probenecid
Other Interactions
Some medications can interact with certain types of food and cause problems.
During the use of amoxicillin, the active ingredient of the drug, you can use a small amount of alcohol with the advice of a doctor.
It would be best to ask your doctor what you can and cannot eat with the use of this medicine.
Other Medical Issues
The presence of certain diseases may affect the use of amoxicilina capsules.
If you have any of the diseases listed below, contact your doctor before using this medicine.
Allergy to cephalosporin or penicillin antibiotics eg cefaclor, cefadroxil, Ceftin® cephalexin, or Keflex®) or Mononucleosis (viral infection) (patients with these problems should not use amoxicilina)
Severe kidney disease – It can be used at the right intervals with the advice of the doctor. If you have severe kidney disease, the effects may be increased due to slower excretion of the drug from the body.
Phenylketonuria (PKU) – The substance called phenylalanine in it can make your condition worse.
How To Use Amoxicilina 500mg Capsules?
The dose of the drug will vary depending on the severity of your disease and your age.
You can also find a list of doses in the instructions for use inside the medicine.
If your doctor has prescribed a different dose, skip the dose written in the instructions for use of the medicine and continue at the doses your doctor has told you.
For bacterial infections:
Children, teenagers, and adults weighing 40 kilograms (kg) or more can take this medicine 250 to 500 milligrams (mg) every 8 hours or 500 to 875 mg every 12 hours, unless the doctor says otherwise
Infants and children over 3 months old and weighing less than 40 kg – your doctor will determine the dose based on body weight. The usual dose of amoxicilina is 20 to 40 milligrams (mg) per kilogram of body weight per day, divided and every 8 hours, or 25 to 45 mg per kg of body weight per day, divided every 12 hours.
Infants 3 months and younger – the dose will depend on body weight and will be determined by the doctor. The usual dose is 30 mg per kilogram of body weight per day, given in divided doses every 12 hours.
For the treatment of gonorrhea:
Teenagers, adults and children weighing 40 kilograms (kg) or more – The doctor will usually prescribe 3 grams (g) as a single dose.
Children aged 2 years and over, weighing less than 40 kg – Your doctor will determine the dose based on body weight. The usual dose of amoxicilina capsules is 50 milligrams (mg) per kilogram (kg) of body weight per day, with 25 mg/kg of probenecid taken as a single dose.
Not recommended for use in children younger than 2 years old.
For the treatment of H. pylori infection:
Adults:
Dual therapy: 1000 milligrams (mg) of amoxicillin and 30 mg of lansoprazole three times daily (every 8 hours) for 14 days.
Triple therapy: Amoxicillin 1000 mg, clarithromycin 500mg and lansoprazole 30 mg twice daily (every 12 hours) for 14 days.
Children:
Use and dose should be determined by your doctor.
Use this medicine only as prescribed by your doctor and in accordance with their instructions.
Do not use more or less than your doctor says.
It is okay to take this medicine with or without food.
What Should I Do If I Forget A Dose?
If you miss a dose of the drug, take it if the time for the next dose is not near.
However, if it is time for the next dose, skip the missed dose and continue with the new dose.
Taking a double dose to make up for the missed dose can cause serious health problems.
Therefore, do not use a double dose.
If amoxicilina gets into the hands of children, too much can be accidentally swallowed and can be life-threatening to your child.
For this reason, be sure to keep this medicine out of your child's reach.
It's not a good idea to keep expired medications.
Store these capsules in a closed container at room temperature, away from heat, moisture, and direct light.
Do not let it freeze.
Precautions
Consult your doctor if your or your child's symptoms do not improve or worsen after taking the medicine (for a few days).
In rare cases, amoxicilina can cause a serious allergic reaction called anaphylaxis.
Such allergic reactions can be life-threatening and require immediate medical attention.
If you experience problems such as skin rash, shortness of breath, difficulty in swallowing, swelling of the hands, face, mouth and throat after using the drug, go to the health center without waiting.
Amoxicilina is an antibiotic and in some cases can cause diarrhea.
In some cases, diarrhea can be even more severe.
Sometimes diarrhea may occur 2 months or more after stopping the use of these capsules.
If you or your child has diarrhea during or after the use of this medicine, do not take or give any medicine to treat diarrhea without consulting your doctor.
The diarrhea medications you use may worsen the condition of you or your child.
If your diarrhea does not go away and gets worse, contact your doctor without waiting.
If you are going to have a test in the hospital, tell the hospital staff that you are using amoxicillin because the use of this drug may affect the test results.
Especially in young patients, there may be changes in tooth color during the use of this drug.
Teeth may appear to have yellow, brown, or gray patches.
To help prevent this, you can floss, brush your teeth regularly, or have your teeth cleaned by a dentist.
Amoxicilina capsules may reduce the effectiveness of birth control pills and may cause you to become pregnant.
To avoid this problem, you can use other methods of contraception such as condoms, diaphragms or birth control foam.
As mentioned above, you should definitely talk to your doctor before using any medication with this medication.
You may also notice our article on Neurobion injection used to treat vitamin deficiency.
Side Effects of Amoxicilina 500mg Capsules
Each drug may cause some undesirable side effects as well as some beneficial side effects, but these undesirable side effects do not appear in everyone.
The side effects listed below may occur during the use of amoxicilina:
Bad, unusual or unpleasant (afterward) taste
Change in taste
Abdominal or stomach cramps or tenderness
Leg, back, or stomach aches
Black, tarry stools
Bleeding gums
Peeling, blistering, or loosening of the skin
Swelling
Blood in the urine
Nose bleeding
Chest pain
Chills
Cough
Dark urine
Diarrhea
Watery and severe diarrhea that may be bloody
Difficulty breathing
Difficulty swallowing
Dizziness
Fast heart rate
Feeling of discomfort
Fire
General body swelling
Headache
Heavier menstrual periods
Hives
Increased thirst
Joint inflammation
Itching
Joint or muscle pain
Loss of appetite
Nausea or vomiting
Nose bleeding
Pain
Pain in the lower back
Burning or pain when urinating
Difficult or painful urination
Pale skin
Pinpoint red spots on the skin
Swelling of the eyelids or eyes, face, lips or tongue
Rash
Red, irritated eyes
Redness, pain, or itchy skin
Shortness of breath
Throat ache
Sores, ulcers, or white patches in the mouth or on the lips
Sudden decrease in the amount of urine
Swollen lymph nodes
Sensibility
Chest tightness
Unpleasant breath odor
Unusual bleeding or bruising
Unusual tiredness or weakness
Unusual weight loss
To feel extremely frustrated and angry
Wheezing
Yellow eyes or skin
You can report side effects to the FDA at 1-800-FDA-1088.
Frequently Asked Questions
How Does Amoxicilina Work?
This type of medicine is a penicillin antibiotic.
It works by killing bacteria in the body that cause infections.
When will I feel good?
The answer to this question depends on the type of infection in your body, but for most infections, you should feel better within a few days. It is very important that you take these capsules until your treatment is finished. Even if you feel well, do not stop using the drug without talking to your doctor. This can cause the infection to recur or not heal.
What if I don't get well?
If you do not start to feel better after 3 days of using this medicine, talk to your doctor. Even if you feel bad during the use of the drug, inform your doctor about this.
Do Amoxicilina 500mg capsules cause thrush?
In some cases, amoxicilina capsules, like other antibiotics, can cause a fungal infection called thrush. If you think you have thrush fungus, consult your doctor or pharmacist without waiting.
Can it be used with other antibiotics?
It is not a good idea to use 2 antibiotics mixed together unless your doctor recommends it.
In some cases, the doctor may recommend using two antibiotics together.
Will it affect my contraception?
Amoxicilina 500mg tablets will not stop the work of birth control pills, including the combined pill or emergency contraception, but may reduce their effectiveness. Contact your doctor for further medical advice.
Will it affect my fertility?
There is no evidence that taking Amoxicilina reduces fertility in men or women.
Does it stain teeth?
Amoxicilina 500mg capsules are very unlikely to stain teeth. Generally, the liquid form of amoxicillin, which is the active ingredient in the drug, stains the teeth and these stains are not permanent.
Can I use the car or bike?
Yes. The use of these capsules should not affect your ability to drive or ride a bicycle.
What foods can I eat and which can't I eat?
You can eat and drink normally while taking these capsules.
Can I have alcohol?
Yes. You may drink moderate amounts of alcohol if you are using these capsules.
Did You Like This Article?
Please let us know if our articles are readable and informative. Your feedback is very important to us.