Drugs
Famotidine: Usage, Side Effects, Precautions And More
Famotidine belongs to the class of drugs called histamine receptor antagonists.
It acts by reducing the amount of acid produced by the stomach.
Famotidine is used in the conditions listed below:
In the prevention of aspiration pneumonia (a lung inflammation),
In cases where the stomach secretes too much acid (Zollinger-Ellison syndrome)
Cancers that cause the body to produce too many blood cells (they are called "mast" cells) (systemic mastocytosis) and tumors in several endocrine glands at the same time (multiple endocrine adenomas)
Prevention of stress ulcer in intensive care patients, Wounds in the stomach or small intestine (gastric ulcer, duodenal ulcer or peptic ulcer),
during hospitalization in hospitalized patients who cannot receive oral treatment for a disease in which the stomach produces too much acid and the acid passes into the esophagus and causes burning (gastroesophageal reflux).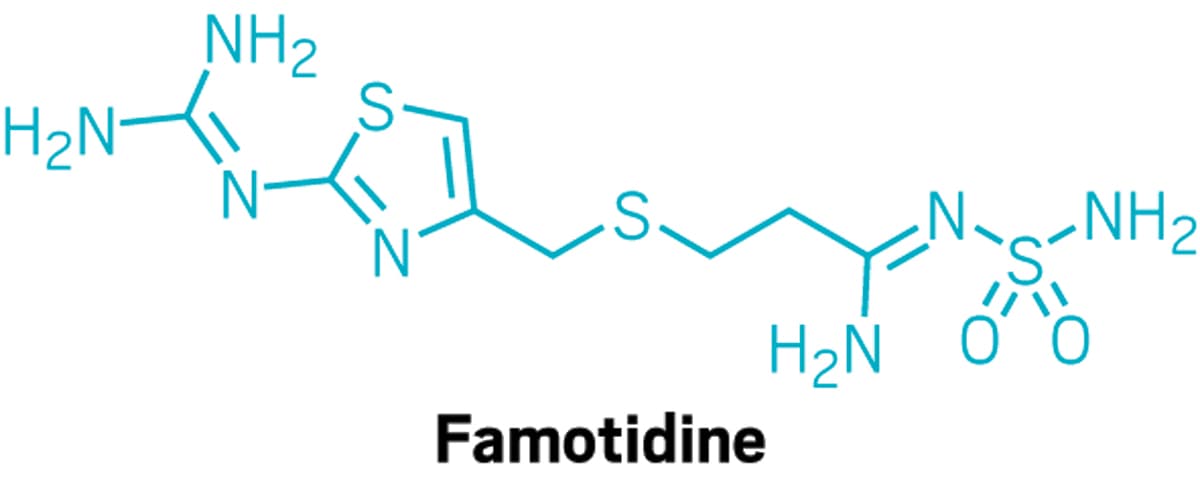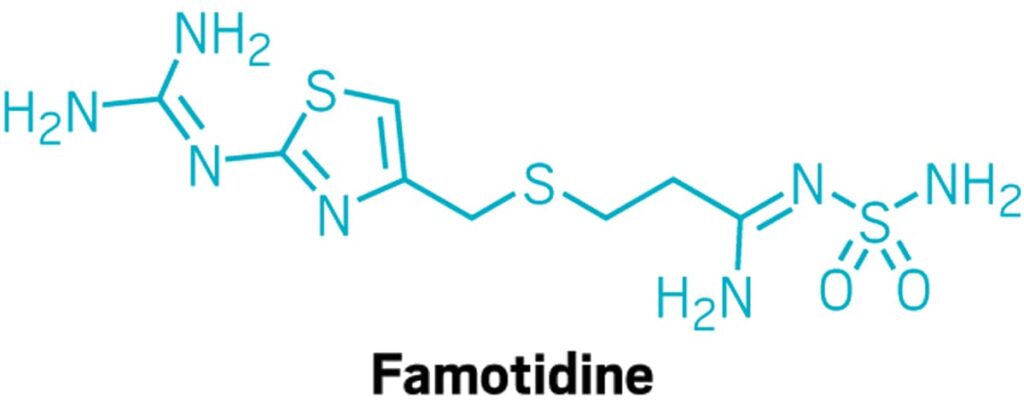 Things To Pay Attention
Do not use the famotidine component in the following situations:
If you are allergic to famotidine or any ingredient in the medicine
If you have ever had an allergy to other drugs from the same group of drugs (H2-receptor blockers).
Use this component with caution in the following situations:
If you have severe kidney failure. In this case, your doctor may want you to take your medicine at a lower dose.
The improvement in the symptoms to be achieved with famotidine treatment does not eliminate the possibility of a malignant tumor in the stomach. Therefore, before starting Famotidine treatment, your doctor should do the necessary examination to rule out the possibility of such a disease.
If these warnings apply to you, even at any time in the past, please consult your doctor.
Pregnancy And Breastfeeding
Consult your doctor or pharmacist before using this medication.
You should use famotidine only when your doctor recommends it.
If you realize that you are pregnant during your treatment, consult your doctor or pharmacist immediately.
Consult your doctor or pharmacist before using the medicine.
Famotidine passes into breast milk.
It is not known whether it will harm a nursing baby.
If you are breastfeeding, talk to your doctor before using Famotidine.
Concomitant Use With Other Drugs
Famotidine usually does not interact when used with other drugs.
However, inform your doctor about all the medicines you use. In particular, you should inform your doctor when using probenecid (used for gout).
There should be at least 2 hours between doses of sucralfate and famotidine.
The absorption of ketoconazole and itraconazole may be reduced.
Take ketoconazole 2 hours before famotidine.
If you are currently using or have recently used any prescription or non-prescription drugs, please inform your doctor or pharmacist about them.
How Is Famotidine Used?
Use famotidine as recommended by your doctor.
Unless recommended otherwise by your doctor, the following dosage form is administered to adult patients:
As adult and adolescent dosage:
In the treatment of gastric ulcer, duodenal ulcer, gastroesophageal reflux disease (GERD), peptic ulcer treatment, pathological gastric hypersecretory conditions and stress ulcer: 20 mg administered every 12 hours as an intravenous injection or infusion.
In the prevention of aspiration pneumonia: 20 mg intramuscularly administered twice, at night before the operation and in the morning of the operation.
Famotidine is administered intravenously or intramuscularly.
Not recommended for use in children and under the age of 18.
No dosage adjustment is required in elderly patients.
Medication should be discontinued 24 hours in advance as it will impair some allergic skin tests called pentagastrin and histamine tests.
It causes false negative results in allergic skin tests.
May increase transaminases (a type of enzyme found mainly in muscle and liver cells) in serum.
If you have kidney failure, your doctor will adjust the dose of your medicine specifically for you.
If you have the impression that the effect of Famotidine is too strong or too weak, talk to your doctor or pharmacist.
If you have used more Famotidine than you should, talk to a doctor or pharmacist.
If you forget to use famotidine, inform your doctor or pharmacist.
Do not take a double dose to make up for forgotten doses.
Side Effects Of Famotidine
Transient irritation at the injection site may occur with famotidine injection.
Like all medicines, there may be side effects in people who are sensitive to the ingredients of Famotidine.
If any of the following occur, stop using Famotidine and tell your doctor immediately:
Sudden high fever, severe sore throat or mouth sores, pale skin, tiredness, difficulty breathing, dark urine, more frequent infections, tingling and numbness in the hands and feet due to a decrease in the number of white blood cells and red blood cells, a type of white blood cells (agranulocytosis) significant decrease in the number of blood cells, decrease in all blood cells
Severe shortness of breath or sudden worsening of breathing, cough or fever (sometimes fatal) which is an indication of possible inflammation of the lungs
Severe skin reactions (Stevens-Johnson syndrome) such as scalding, fluid-filled blisters (sometimes fatal, toxic epidermal necrolysis), rash, redness, blistering, peeling of the skin, and fever on the lips, eyes, and mouth
severe allergic condition with symptoms such as skin rash, itching or hives, swelling of the face, lips, tongue or other parts of the body, shortness of breath, wheezing or difficulty breathing, joint pain (anaphylaxis)
Common (less than 1 in 10 patients, but more than 1 in 100 patients)
Headache, drowsiness
Constipation, diarrhea
Uncommon (affects less than 1 in 100 patients, but more than 1 in 1,000 patients)
Loss of appetite
Nausea, vomiting, abdominal pain or bloating, gas
Dry mouth, taste disorder
Rash, itching, urticaria (hives)
Fatigue, tiredness
Fire
Rare (may affect up to 1 in 1,000 patients)
Rare cases of gynecomastia (enlarged breasts in men) have been reported: however, the frequency was not found to be higher than placebo in controlled clinical studies.
Very rare (may affect up to 1 in 10,000 patients)
Differences in blood cell counts from normal, such as agranulocytosis, pancytopenia, leukopenia, thrombocytopenia, neutropenia
Reversible mental disorders including depression, irritability, restlessness, disorientation, confusion, hallucinations (seeing, hearing or feeling things that are not there).
These complaints usually disappear with discontinuation of the drug.
Hypersensitivity reactions (severe allergic reaction (anaphylaxis) which may cause difficulty in swallowing and/or breathing, flushing or swelling of the face and/or hands),
Swelling of the hands, feet, wrists, face, lips, or especially swelling of the mouth or throat that makes it difficult to swallow or breathe (angioneurotic edema), sudden contraction of the muscles in the wall of the small airways (bronchospasm))
Convulsions, grand mal seizures (especially in patients with renal failure), paresthesia (impaired sense of touch), drowsiness or insomnia
Heart rate irregularities such as AV block, prolongation of the QT interval (especially in patients with impaired renal function) as a result of intravenous administration of H: receptor antagonists, which is the drug group in which famotidine is located, sometimes serious lung infection (pneumonia)
Feeling of tightness in the rib cage
Abnormalities in liver enzymes, slowing or complete cessation of bile flow as a result of an obstruction in the bile ducts within the liver (intrahepatic cholestasis). hepatitis (an inflammation of the liver)
Severe skin reactions called Stevens-Johnson syndrome and sometimes fatal toxic epidermal necrolysis with hair loss, extensive peeling of the skin, blisters and sores of mucous membranes such as the mouth
Joint pain, muscle cramps
Impotence, decreased libido
Our article on Salbutamol Sulfate may also attract your attention.
Did You Like This Article?
Please let us know if our articles are readable and informative. Your feedback is very important to us.