Drugs
Levoxin 750 Tablets: Usage, Side Effects And Precautions
Levoxin 750 tablets are taken orally.
It is an effective antibiotic against bacteria.
It belongs to the group of antibiotics called fluoroquinolones.
It prevents the growth and reproduction of bacteria and ensures the destruction of bacteria.
Levoxin 750 tablets are used in the treatment of infections caused by bacteria sensitive to its active ingredient, levofloxacin.
Your doctor may have prescribed Levoxin 750 tablets because you have:
Acute inflammation of the air spaces inside the facial bones (sinusitis) caused by bacteria
Acute exacerbation of chronic bronchial inflammation
Community-acquired pneumonia
Complications of kidney and urinary tract infections, including inflammation of the urinary tract and kidney (pyelonephritis)
Uncomplicated urinary tract infections
Inflammation of the prostate
Skin and soft tissue infections: Uncomplicated skin and skin appendages infections caused by abscess (pus sac), cellulitis, furuncle, impetigo (infectious, superficial, microbial infection of the skin), pyoderma (skin infection with pus), wound infections.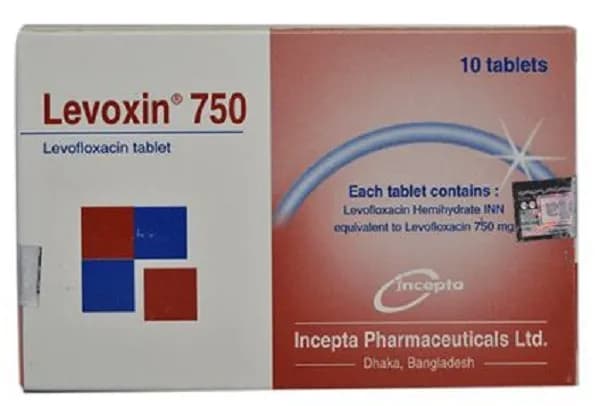 Things To Consider Before Using Levoxin 750 Tablets
Do not use Levoxin 750 Tablets in the following situations:
If you are allergic to levofloxacin or any of the ingredients in this medicine, or to any of the fluoroquinolones antibiotics (moxifloxacin, ciprofloxacin, ofloxacin). Allergy symptoms: Itching, swallowing or breathing problems, swelling of the lips, face, throat or tongue
If you have epilepsy,
If you have experienced tendon (connection between the joint and muscle) discomfort (tendonitis) due to the use of quinolone antibiotics,
If you are pregnant
If you are breastfeeding,
Do not use Levoxin 750 Tablets in children and adolescents who are still growing.
It should not be used in children, growing adolescents, during pregnancy and lactating women due to damage to developing cartilage tissue.
Use Levoxin 750 Tablets with caution in the following situations:
If you have a very severe lung infection or a serious hospital infection (another antibiotic may be more appropriate)
If you have a disease related to your central nervous system and have experienced involuntary spasms related to it.
if you have brain damage due to stroke or other brain injury
In cases of intestinal inflammation with bloody, watery diarrhea due to long-term antibiotic use: If severe, persistent and/or bloody diarrhea is observed during or after Levoxin treatment, Levoxin treatment should be terminated immediately and treatment should be started immediately. Inform your doctor immediately. Your doctor will determine the appropriate treatment for you.
If pain, redness, limitation of movement occur, which may be a sign of inflammation or rupture in the muscle tendons. Your doctor may want to monitor this situation closely.
If you have kidney failure: Your doctor will make a special dose adjustment for you.
Although rare, light sensitivity has been reported in patients using Levoxin. Do not go out to strong sunlight and do not be exposed to artificial ultraviolet rays such as solarium during the use of Levoxin.
Superinfection (initiation of a second infection in the body weakened by any infection): As with other antibiotics, long-term use may cause overgrowth of non-resistant organisms. Your doctor may want to monitor you closely to prevent this. If superinfection occurs, appropriate treatment methods will be applied by the doctor.
If you have QT prolongation (a condition that can cause severe heart arrhythmias and sudden death): Very rarely, QT prolongation has been reported in patients given fluoroquinolones, including levofloxacin. Caution should be exercised in the following risk groups:
If you are older (over 65 years old) or a woman,
If you have had liver problems,
If you are using corticosteroids
If you have an uncorrected electrolyte imbalance (e.g. low blood potassium and magnesium levels).
If you have congenital QT syndrome (a condition that can cause serious heart arrhythmias and sudden death)
if you have heart disease (heart failure, history of heart attack, slowed heart rate)
Concomitant use of drugs known to prolong the QT interval (e.g. Class IA and III rhythm-regulating drugs, some antidepressants, macrolide antibiotics and antipsychotics) If you have a congenital deficiency of an enzyme called glucose-6-phosphate dehydrogenase,
If you have peripheral neuropathy (disorders in the nerves for any reason – loss of sensation)
If you have a history of Myasthenia Gravis (a type of muscle weakness disease), be careful while using Levoxin. Levoxin may cause a relapse of Myasthenia Gravis.
If you have any health problems other than the diseases and disorders listed above, you should consult your doctor before using this medicine.
The use of this medicine may cause some undesirable side effects such as drowsiness/dizziness, visual disturbances, drowsiness, which may impair the patient's ability to concentrate and react.
In situations that require special attention, such as driving and using machinery, a reduction in these abilities may pose a risk.
Do not use this medicine with alcohol.
If you are using any medication, talk to your doctor before using this medication.
Pregnancy And Breastfeeding.
There are no adequate data on the use of levoxin in pregnant women.
The potential risk for humans is unknown.
Levoxin should not be used during pregnancy because of insufficient human data and experimental studies with fluoroquinolones have shown the risk of damaging weight-bearing cartilage in growing organisms.
If you realize that you are pregnant during your treatment, consult your doctor or pharmacist immediately.
There is insufficient/limited information regarding the excretion of Levoxin in human or animal milk.
Due to the physicochemical and available pharmacodynamic/toxicological data regarding excretion of levofloxacin in milk, a risk to the breastfed child cannot be excluded.
Levoxin should not be used during lactation, as experimental studies with fluoroquinolones have shown the risk of damaging weight-bearing cartilage in growing organisms.
How To Use Levoxin 750 Tablets?
The tablet is administered once or twice a day.
The dosage depends on the type and severity of the infection, as well as the susceptibility of the causative bacteria.
This medicine should only be taken if prescribed by the doctor. Your doctor will determine the appropriate dose for you.
High-dose (750 mg) once-daily short-term (5 days) levofloxacin is approved in the USA for use in the treatment of complicated urinary tract infections, acute bacterial sinusitis (ABS), and community-acquired pneumonia (CAP).
Side Effects Of Levoxin 750 Tablet
Like all medicines, there may be side effects in people who are sensitive to the substances contained in Levoxin.
If any of the following occur, stop using this medicine and inform your doctor immediately.
Widespread itching and rash on the skin, swelling of the lips, face, throat and tongue, difficulty in breathing and swallowing (hypersensitivity-anaphylaxis)
Stevens-Johnson syndrome, erythema multiforme (inflammation with blood on the skin and around the eyes, swelling and redness), toxic epidermal necrolysis (a serious disease with fluid-filled blisters on the skin)
Pain and inflammation in their tendons. The Achilles tendon is the most commonly affected tendon, and in some cases, the tendon may rupture.
Seizures of involuntary contractions of the muscles (convulsions).
The side effects listed above are serious side effects and if these side effects occur, they should be discussed with the doctor without waiting.
Nausea, vomiting, diarrhea
Elevated blood levels of some liver enzymes,
Headache, drowsiness
Insomnia
Fungal infections, resistance development in other microbes
Itching and skin rash, hives, excessive sweating
Abdominal pain, indigestion, loss of appetite, flatulence, constipation
Dizziness
Anxiety, confusion, irritability
Somnolence, tremor, taste disturbance
Shortness of breath (dyspnea)
Joint or muscle pain
Blood tests may show unexpected results due to liver or kidney problems (increased bilirubin, creatinine) Low white blood cell count (leukopenia)
Weakness
Decrease in blood sugar. This is important for diabetics and can cause coma.
Mental disorder, restlessness, depression, which may be accompanied by visual and auditory hallucinations (hallucinations) and excessive suspicion (paranoia),
Abnormal dreams, nightmares
Visual disturbances, including blurred vision
Tinnitus
Muscle weakness. This is an important condition for patients with myasthenia gravis (a rare disease of the nervous system).
Low blood pressure
Rapid heartbeat, palpitations
Bleeding and bruising may occur easily due to low blood platelet count (thrombocytopenia).
Decreased white blood cell count (neutropenia)
Fire
Kidney failure caused by changes in the way the kidney works and an allergic kidney reaction called interstitial nephritis
Attacks in patients with porphyria (a rare metabolic disease)
Our article named Peptamen Jr may also attract your attention.