Drugs
What Is Madecassol Cream And What Is It Used For?
This cream, whose active ingredient is Centella Asiatica, has a very nice scent.
If you are a parent, you cannot ignore the risk of your children falling while playing.
Adults or children can use this cream during injuries.
It is important to avoid any secondary infection in order to speed up the healing of various wounds and prevent scarring.
Madecassol is a cream made from the extract of Centella Asiatica, a medicinal herb that grows in Madagascar, an island country off the southeast coast of Africa, used to prevent the formation of scars.
It has been loved by the public as a wound-healing balm since its introduction in the United States.
Dongkook Pharmaceutical, the current manufacturer of Madecassol products, first imported Madecassol ointment from a French pharmaceutical company, Laroche Navarron.
Later, he started to extract raw materials from the Centella Asiatica plant and to produce the product using its own technology.
In 1985 the company introduced a new line of products called Madecassol cream, with a new green packaging containing an image of the plant and said to be made from plant extracts.
Madecassol cream is a wound healing medicine with a 45-year history.
They have used the medicinal plant from this island for centuries to treat skin infections.
The name of the cream comes from Madagascar, the origin of the plant.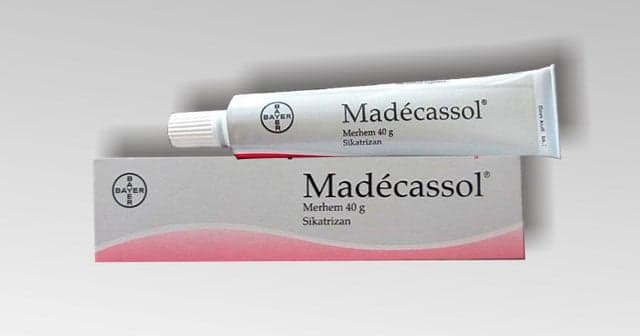 What Is Madecassol Cream?
Madecassol cream is a medical cream containing an antibiotic neomycin and anti-inflammatory hydrocortisone, used to reduce inflammation, treat minor abrasions, post-operative cuts, and chest cracks.
It contains extracts from Centella Asiatica, a plant that helps the growth of flesh on the skin.
Centella Asiatica extract helps normal collagen synthesis throughout the healing process.
There are different types of Madecassol medicine (Madecassol Care cream, Madecassol Powder, Madecassol Ointment, and Madeco Balsam).
Madecassol is suitable for wounds or sensitive skin with less risk of infection due to its mostly herbal content.
It is recommended for use by adults as well as small children and infants.
The question of whether this cream can be used on open wounds is a little different.
I've searched a lot of articles on this.
Some sites say that you should definitely not apply the cream to your open wounds, but some say that it can be used on open wounds because it is natural.
I will investigate this further in the future and try to give you the answer to this question.
If your wound is open, it will be better for you to use it after informing your doctor.
(If the wound is very deep, then you should definitely see a doctor).
Even if you have a lot of pain, the doctor can prescribe this cream for you.
You can buy this cream not only in pharmacies, but also in stores or grocery stores.
It can be easily used on wounds that do not have the risk of a second infection.
If the wound is used without crusting, it can prevent the formation of future scars.
It can also be used for purposes not specified in this article.
What Is Madecassol Cream Used For?
To reduce blood pressure and inflammation in the veins
In the treatment of minor abrasions
In the treatment of varicose veins
To minimize the treatment of cut marks on the skin after surgery
To remove stretch marks during and after pregnancy
For the treatment of cracks in the nipples of mothers who breastfeed for a long time
For the treatment of radio-epidermis (usually seen after radiotherapy)
To reduce the burning sensation after waxing
How to Use Madecassol Cream?
The default dose of Madecassol cream is to apply 1-2 times a day to the affected area, but if your doctor has prescribed it for you, the dose may differ.
Please note that you should only use this cream with a doctor's prescription.
If your doctor has prescribed this cream for you, your doctor will still give you the best advice.
This cream should not be taken by mouth or it may cause serious problems.
If you accidentally swallow the medicine, it would be best for you to go to a hospital without waiting.
Wash your hands thoroughly with soap before applying the cream to minimize the risk of infection in your wounds.
Dry your hands thoroughly after soaping them.
Be careful not to rinse the area where you applied Madecassol cream with water.
Using large amounts of madecassol cream may cause skin pilling.
To prevent pilling, apply less (a thin coat) at the dose prescribed by your doctor.

What Are the Side Effects of Madecassol Cream?
Although most of it is natural, you may be allergic to the herbs or ingredients in this cream.
Before using the cream, check the active ingredients in the package.
You should not use this cream if you are allergic to any active ingredient.
Possible side effects are listed below:
Skin rash or allergies
Stomach ache
Headache
Numbness
Dizziness
Side effects not mentioned in the list above may also occur.
If you experience any side effects while using this cream, inform your doctor without waiting.
You can also contact your local food and drug administration officials if you experience side effects after using any medication.
What Should Be Considered?
Inform your doctor if you are using any other medication while using Madecassol cream.
Tell your doctor if you have any of the following:
If you are using over-the-counter products (vitamins, for example)
If you have any disease
Current health conditions (upcoming surgery, birth etc.)
If you have allergies
Such situations make you more sensitive to the active ingredient in the drug.
If you accidentally swallow the medicine, it would be best for you to go to a hospital without waiting.
Talk to your doctor before using it on cracked, irritated, sunburned, dried skin.
Be careful not to get this cream in your nose, mouth, eyes, and ears.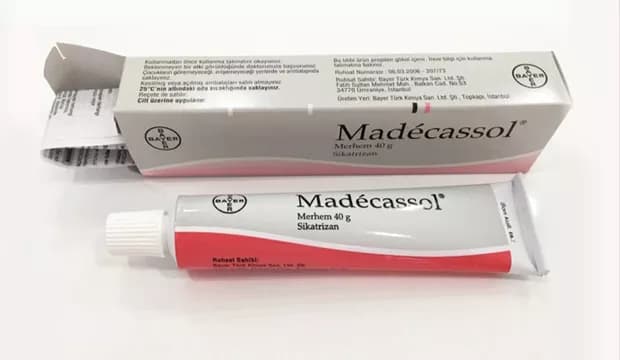 Experiments On The Side Effects Of Madecassol Cream
Mice with experimental skin burns were divided into four groups in the studies and Madecassol cream was applied to each of them once a day.
The first group was sacrificed after 24 hours, the second group after 48 hours, the third group after 72 hours and the fourth group after 11 days.
Skin samples were taken from each group and routine electron microscope was used.
No significant difference was found with mice injected with Madecassol at 24, 48, and 72 hours.
However, skin regeneration appeared to be faster in mice injected with Madecassol for 11 days.
As a result, it was understood that Madecassol helped to form a thin and smooth scar.
It was also revealed that this cream accelerates epithelization.
You can also use honey, which is a natural miracle for cuts.
Honey provides ample moisture to the affected area, nourishes the skin, and supports the healing process.
It also has an antibacterial effect and protects against infections.
Rub some honey on the cut area and cover it with a plaster or bandage.
Let the honey act for 1 hour and then remove the bandage and rinse the area thoroughly with water.
Repeat the application several times a day and for several days in a row.
The aloe vera plant is also very good for cuts.
Did you know that Aloe Vera speeds up the healing process of cuts?
It has a calming, anti-inflammatory, and antibacterial effect.
Extract the gel from a small aloe vera leaf, spread it on the cut, and let it dry.
Repeat the application every 3 hours.
If you have sunburn, you can read this article.
Result
Madecassol is prepared from the extract of the Centella Asiatica plant, a member of the Umbelliferae family.
This cream contains acid, Asiatic acid and asiaticoside. It is used to prevent cicatrization and as a wound-healing cream.
If you have doubts about this cream, talk to your doctor for detailed information.
If used correctly, you can achieve beautiful results.
If you want to use this cream and share the results with us, you can write the results in the comments section.