Drugs
Bonadoxina: Usage, Side Effects And More
Bonadoxina is a drug used for the preventive treatment of nausea, vomiting and vertigo.
Made by Pfizer Laboratories, Meclozine is a combination of Vitamin B6 (Pyridoxine Hydrochloride) and Lidocaine ingredients.
However, since it may cause addiction and hyperactivity in children in long-term treatments, it should always be applied by taking certain precautions.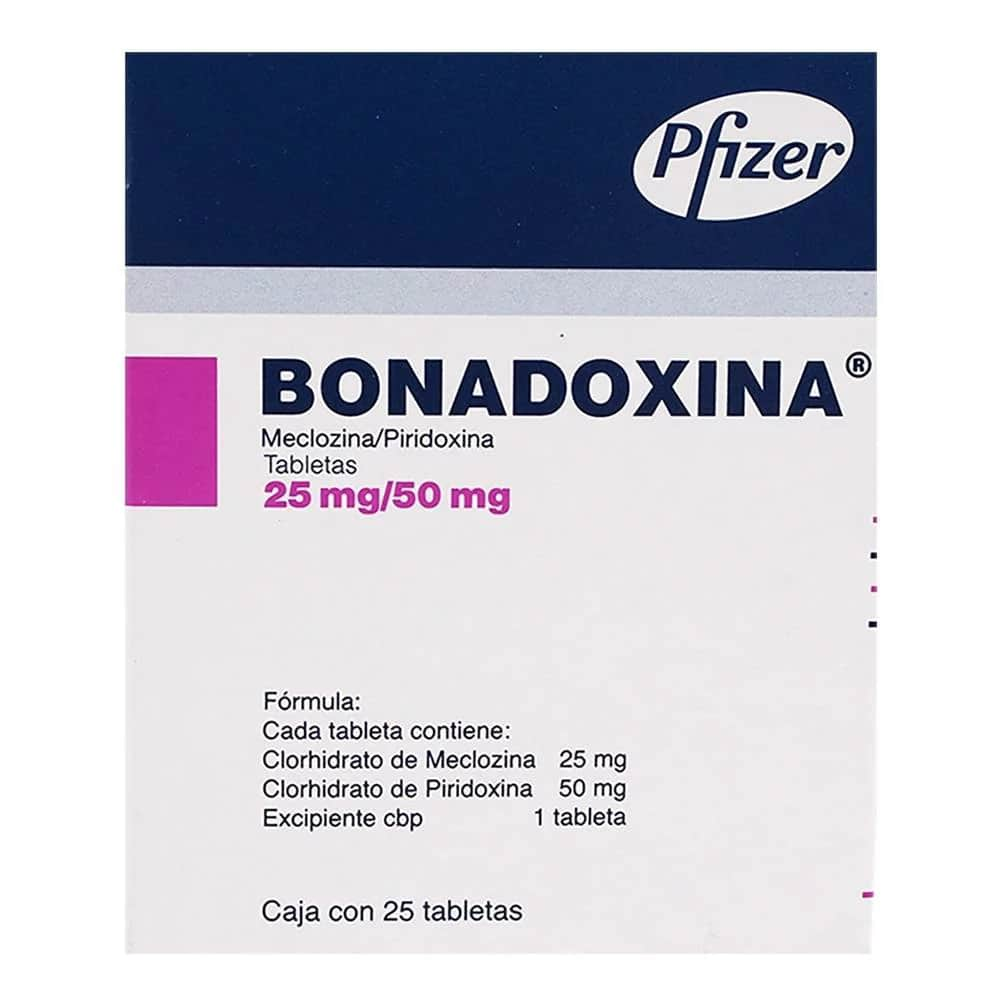 Presentations
In general, Bonadoxina is available in the following versions:
Syrup: 60 and 120 ml syrup bottles
Drops: dropper bottles containing 20 ml of solution
Tablets: boxes containing 10 and 25 tablets of 25 and 50 mg
Injectable solution: 5 bottles of 1 ml injectable solution
What Are The Components Of Bonadoxina?
Based on its presentation, the ingredients of Bonadoxina are listed below:
Drops: 0.833 g Meclozine and 1.666 g Pyridoxine
Tablets: 25 mg Meclozine and 50 mg Pyridoxine
Syrup: 0.297 g Meclozine and 0.608 g Pyridoxine
Injectable solution: 25 mg Meclozine, 50 mg Pyridoxine and 20 mg Lidocaine
Bonadoxina Dosage And Recommended Uses By Age
Tablets for motion sickness or altitude:
0 to 12 years age: 25mg (once a day)
Adults: 25 – 50mg (once a day)
Tablets for nausea during pregnancy:
Adults: 25 – 50mg (once a day)
Tablets for ear ailments:
Adults: 25 – 100mg (once a day)
0 to 12 years of age: It should not be used in children unless the doctor says otherwise.
Syrup:
Adults: The syrup is not generally used in adults. (Unless the doctor tells you otherwise)
0 to 12 years age: 1.5 to 10 ml (2/3 dose per day)
Solution:
Adults: Solution is not prescribed to adults unless the doctor says otherwise.
0 to 12 years age: 0.5 to 3 ml (2/3 dose per day)
Injectable solution for relieving dizziness, preventing nausea, vomiting and balance disorders:
Adults: 25 – 100mg (once a day)
0 to 12 years of age: The injectable solution is not for use in children. (Unless the doctor tells you otherwise)
Injectable solution for the prevention of motion sickness, vomiting and nausea due to pregnancy:
Injectable solution for radiation sickness:
Adults: 25 – 50mg (once a day)
0 to 12 years age: Not to be used.
The effect of Bonadoxina lasts about 1 hour and has a long duration of action, lasting 8 to 24 hours after a single dose of oral or intramuscular administration.
Only syrup and solution presentations are used in children.
They must be applied with water.
Who Shouldn't Take Bonadoxina?
This drug is contraindicated in patients with known hypersensitivity to meclozine and pyridoxine.
May cause hyperactivity in children.
Patients with glaucoma or prostatic hyperplasia should only take it under a doctor's prescription.
The potential risks of use during pregnancy and lactation must be weighed against the potential benefit.
The use of this drug in patients may cause drowsiness, so avoid using dangerous machinery while using the drug.
Mixture with alcohol enhances the depressive effect on the central nervous system.
There may be an increase in central nervous system depression when Bonadoxina is taken with barbiturates, tranquilizers and sedatives.
It is moderately compatible with pregnancy as the FDA has classified this drug as class B.
Also, studies show that it can cause palate deformities in the fetus.
Therefore, its use during pregnancy should be evaluated before the drug is administered.
According to the e-breastfeeding organization, meclizine has a low risk during breastfeeding, it can pass into milk but is safe to use occasionally to prevent travel sickness.
Side Effect Of Bonadoxina
This medicine may cause side effects such as:
Dry mouth and vomiting
Headache and drowsiness
Fatigue, anaphylaxis and blurred vision
You may also notice our article about Toseina, which is used in the treatment of dry cough.