Drugs
Bronkaid: Uses, Side Effects, Effect on Pregnant Women
Bronkaid Max Caplets is a medicine whose active ingredients are bronchodilator and ephedrine sulfate, which helps to temporarily relieve mild asthma attacks.
Bronkaid does not contain any component that helps sleep.
The drug Bronkaid temporarily relieves mild asthma symptoms such as wheezing, bronchial obstruction, chest tightness and shortness of breath.
Each caplet of Bronkaid Max contains 25 mg of ephedrine sulfate.
A drug can be purchased from pharmacies without a prescription.
With the creation of the Care Act in 2020, it was requested to remove and reformulate guaifenesin, which is the active ingredient in this drug.
The active ingredient of guaifenesin was removed from this drug and only the bronchodilator, Ephedrine Sulfate component remained.
How To Use Bronkaid?
There are no restrictions on taking the Bronkaid drug on an empty or full stomach.
However, you should avoid the use of foods and beverages containing caffeine while using Bronkaid.
Adults and children over the age of 12: Unless your doctor tells you otherwise, 6 caplets should not be exceeded in 24 hours. Use every 4 hours would be the best choice. Do not use more than the recommended dose unless your doctor tells you otherwise.
Children under 12 years of age: If this drug is to be used in children under 12 years of age, this should be discussed with the doctor.
In the use of OTC drugs, it is important to read and follow the dosing instructions in the package.
Inactive ingredients are listed below:
dihydrate, magnesium
dibasic calcium phosphate
cellulose, polyethylene glycol,
stearate, microcrystalline
polyvinyl alcohol, silicone
dioxide, sodium starch glycolate
stearic acid, talc
Can I Use Bronkaid Max While Pregnant Or Breastfeeding?
Bronchodilator, the active ingredient in Bronkaid Max, is generally safe for pregnant women.
However, studies have not been conducted on ephedrine sulfate, which is the other component of the drug.
Therefore, Bronkaid caplets are not recommended for use on pregnant women.
If you are going to use Bronkaid Max, be sure to discuss this with your doctor (You can find the sources below).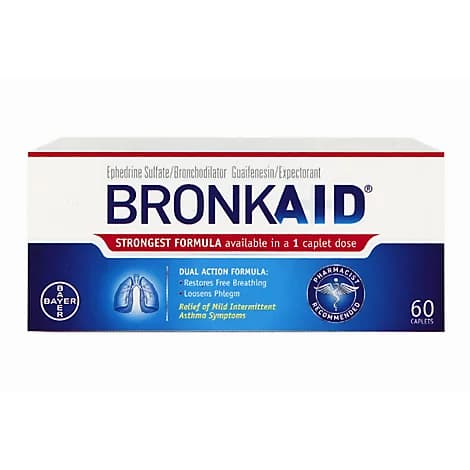 Use Of Bronkaid With Other Drugs
If you are going to use the Bronkaid drug with other drugs, you should inform your doctor or pharmacist about this situation.
It is very important to avoid the interaction of drugs with each other.
Do not use Bronkaid max if you are taking monoamine oxidase inhibitor (MAOI) drugs. You can use this drug with the advice of your doctor 2 weeks after you stop taking the (MAOI) drug.
Show your medicine list with your doctor or pharmacist to make sure your prescription or over-the-counter medicine does not contain an MAOI.
What Are The Side Effects Of Bronkaid Max?
In case of use of Bronkaid max caplets, the side effects listed below may occur:
Nausea
Stomach upset
Flu-like symptoms
Cold symptoms
Ear infections (otitis media)
Migraine headaches
Non-migraine headaches
Bronchitis
Cough
Allergic reactions (rash, hives, itching)
Nervousness
Tremor
Wheezing
Increased sputum
Shortness of breath
Bronchospasm (worsening of asthma)
Serious allergic reactions (anaphylaxis)
Low potassium
Abnormal heart rhythm (palpitations)
Fast heart rate
Elevated blood pressure
Chest pain
Nervousness
Insomnia
Vertigo
Tachycardia
Sweating
This medicine may cause some side effects, but these side effects are usually mild and short-lived.
The side effects listed above are not a complete list.
Therefore, different side effects can be seen.
If you suspect any side effects, stop using the drug and contact your doctor.

What Are MAOI Drugs?
Monoamine oxidase inhibitors (MAOIs) are one of the first types of antidepressants to be developed.
Their effectiveness as an antidepressant became evident in the late 1950s.
They irreversibly inhibit A and B enzymes.
In particular, its irreversible inhibition can lead to a rapid rise in blood pressure.
Tramine-induced hypertension crisis is an important side effect in the use of the drug.
Therefore, diet should be used in drug use.
In addition, very serious risks may occur in combination with certain drugs.
The most common side effects are weight gain, insomnia and edema.
It is inconvenient to use by breastfeeding women because it passes into milk.
It may also be prescribed for the treatment of Parkinson's disease and some other diseases.
What Is Ephedrine Sulfate Used For?
Ephedrine sulfate is the active ingredient in the Bronkaid drug and has been accepted as safe and effective by the FDA (Generally).
It is a bronchodilator that widens the lung airways for the relief and temporary relief of intermittent asthma symptoms.
Bronchodilators help relax bronchial smooth muscle by acting on specific receptors of the body.
This helps relieve chest tightness and wheezing and facilitates breathing.
Package Sizes Of The Drug Bronkaid
Bronkaid max comes in packs of 24 and 60 Caplets.
It is strictly not recommended to use any medication that has expired.
For this reason, if the Bronkaid drug has expired, do not take the drug or throw it into the toilet.
Bronkaid® Max can be taken on an empty or full stomach.
However, you should avoid foods and beverages containing caffeine while using Bronkaid® Max.
What Is Good For Asthma?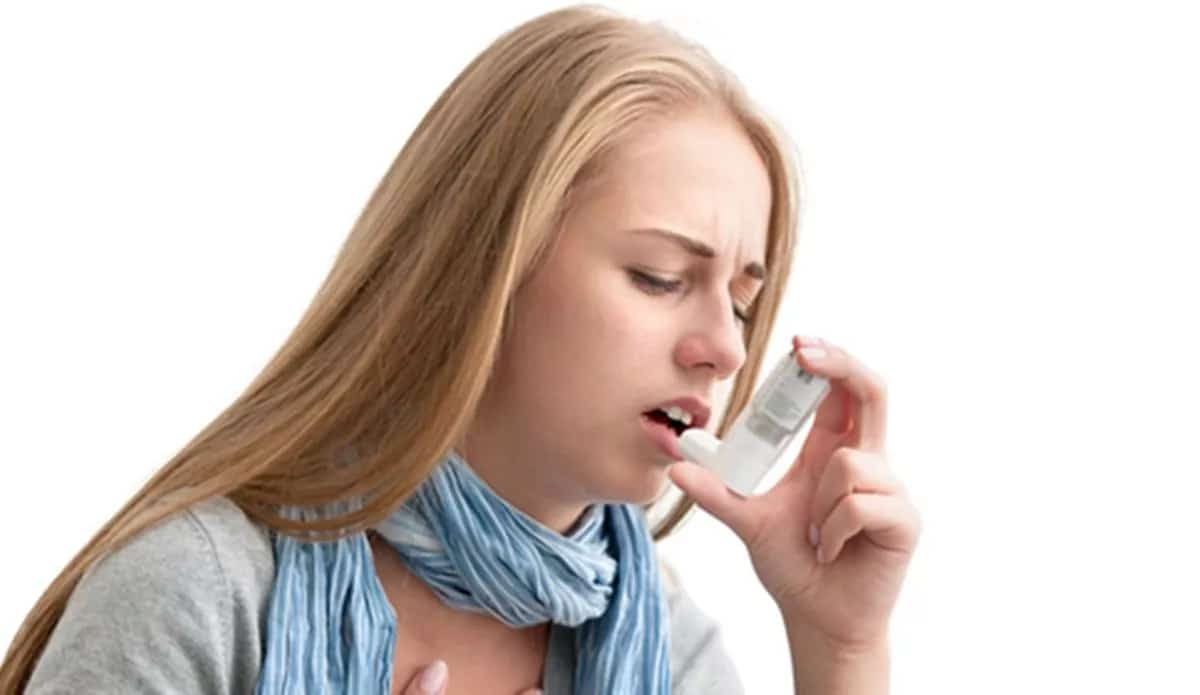 1. Clove
Clove is one of the best natural herbal treatment methods for allergic asthma.
If you are constantly experiencing allergic asthma symptoms, put 6-7 cloves in a glass of boiling water.
Then you can add honey to this clove if you wish.
Consume this mixture 2 times a day after adding honey.
It will significantly relieve the symptoms of allergic asthma and relax the bronchi.
2. Ginger
Ginger is a very important plant for human health.
Consuming the ginger plant is very good for asthma.
If you cannot consume ginger as plain, you can mix it with honey and consume it again.
Ginger is also recommended by specialist doctors.
You can consume the ginger and honey mixture once a day.
It is important not to overdo it in terms of side effects.
3. Fig
Another natural fruit that minimizes allergic asthma symptoms is fig.
Before applying the fig treatment, you need to soak it overnight in water.
Then dry these figs and consume them on an empty stomach.
It may be possible to eliminate the symptoms of asthma by consuming figs once a day.
You may also notice in our article about the drug Cortizone 10 used in skin diseases.
Did You Like This Article?
Please let us know if our articles are readable and informative. Your feedback is very important to us.