Drugs
Magnemed Tablets: Uses, Benefits And Side Effects
Magnemed is a medicine used to treat muscle and cramp pain with a combination of magnesium and b complex.
Magnemed can be used for the following situations:
It can normalize psychological function.
It can help the normal functioning of the nervous system.
Contributes to metabolism
It can reduce fatigue.
Some women use magnesium and vitamin B 6 to alleviate the mood swings that occur in premenstrual syndrome (PMS).
The use of Magnemed tablets can provide you with the following benefits.
May improve muscle tension
May help your sleep quality
It can repair your muscle tissue after exercise or sports
It can strengthen your bones.
May aid protein synthesis
Refreshes your skin
There are 30 tablets in the box and each tablet has the ingredients listed below:
Vitamin B1 (thiamine) – 100 mg (6667% of the recommended daily intake of vitamin B1)
Vitamin B6 (pyridoxine)- 200 mg (10000% of the recommended daily intake of vitamin B6)
Vitamin B12 (cobalamin) – 100 mg (3333% of the recommended daily intake of vitamin B12)
Magnesium – 500 mg (125% of the recommended daily intake of magnesium)
Magnemed does not contain sugar, salt, gluten or lactose.
Let's take a look at the benefits of the vitamins listed above.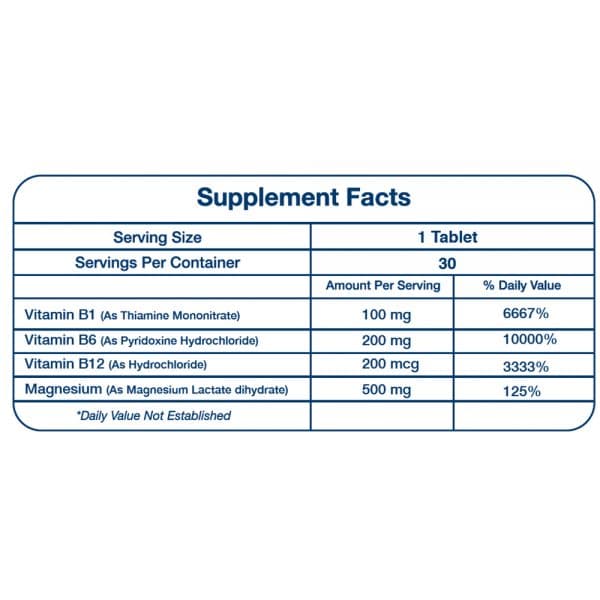 What Are The Benefits Of Vitamin B1?
Vitamin B1 has a significant effect on the functioning of the muscle, heart and nervous system. It eliminates fatigue and weakness in the body, helps you to be lively and energetic during the day. It also plays an active role in reducing stress as it produces ATP in the body. It prevents arteriosclerosis and eliminates the problem of appetite.
What are the benefits of Vitamin B6?
It contributes to the formation of normal red blood cells and the maintenance of the immune system. It strengthens the immune system. It protects our body from diseases. It helps the kidneys to work properly because it supports blood production.
What Are The Vitamin B12 Benefits?
Vitamin B12 prevents cell aging.
It repairs nerve cells.
It protects the body against cardiovascular diseases.
Converts carbohydrates into energy, reduces fat.
It is the basic need for healthy hair, skin and nails.
What Are The Benefits Of Magnesium?
It supports healthy bone development.
It helps in calcium absorption.
It is protective against diabetes.
It takes care of heart health.
Relieves migraine headaches.
Relieves premenstrual syndrome symptoms.
It reduces inflammation.
Increases your exercise performance.
How To Use Magnemed?
If Magnemed has been recommended by your doctor, be sure to follow your doctor's instructions.
The usual dose for this drug is 1 tablet in the morning.
Swallow the tablets with a full glass of water.
Be sure to talk to your doctor before using it on children.
Precautions
If you have any of the following diseases, contact your doctor before using this medicine:
If you have diabetes and advanced kidney disease – In such people, this drug may cause skin lesions, nerve damage, worsening of kidney function, and an increased risk of heart attack, stroke, and death. Scientific studies have associated high doses of vitamin B6 (one of the ingredients in the drug) with high doses of hip fracture risk and lung cancer risk (when taken together with vitamin B12).
If you have kidney problems – Studies have found that vitamin B12 (one of the ingredients in the drug) increases the risk of cardiovascular events when taken by patients with kidney dysfunction. High doses of folic acid and vitamin B12 have been associated with rosacea, acne, and a higher risk of cancer and death in some people.
Even if you do not have any of the diseases listed above, do not use more than the recommended dose while using this medicine.
If you are using any prescription or over-the-counter medication, talk to your doctor before taking this supplement.
Magnemed And Pregnancy
Taking magnesium and vitamin B complex during pregnancy and lactation will benefit your child and you.
As long as you do not exceed the dose, there will be no problems.
But if you are pregnant be sure to talk to your doctor before you start using this medicine.
The substances in Magnemed tablets do not pass into breast milk.
What Are The Side Effects Of Magnemed?
Since the drug contains vitamins and magnesium, the risk of side effects is very low.
Not all people are the same and some people may be sensitive to certain substances.
If the side effects listed below occur, stop taking the drug and contact your doctor:
Change in urine color
Vomiting
High blood sugar levels
Skin flushing
Liver damage
It may attract your attention in our article on Belamyl Injection to animals.