Drugs
Neobes 75 mg 30 Capsules: Usage, Side Effects and Dosages
Neobes is a weight loss drug whose active ingredient is Amfepramone hydrochloride.
It is used in the treatment of exogenous obesity as an adjunct to a weight reduction program based on calorie intake reduction.
Amfepramone, the active ingredient of the drug, is rapidly and completely absorbed from the gastrointestinal tract.
This medicine is often used in the conditions listed below:
Individuals with a BMI of at least 30 kg/m2
Individuals with a BMI of at least 27 kg/m2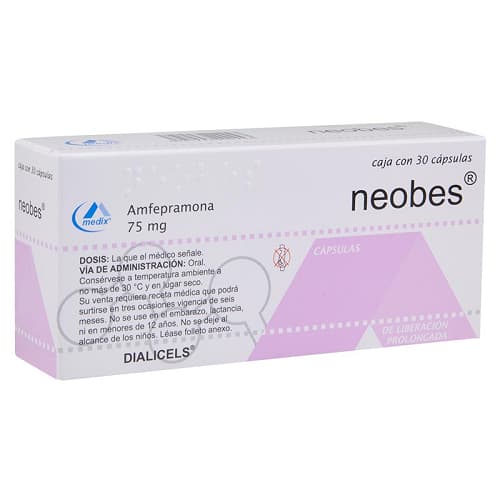 How To Use Neobes Tablets?
Remember that you should not use this medicine unless recommended by your doctor.
It should be noted that this article describes only the usual dose of this medicine. If your doctor has prescribed a different dose for you, do not follow your doctor's instructions.
The usual dose for individuals over 18 years of age is one Neobes capsule on an empty stomach.
Take care not to exceed the 75 mg dose within 24 hours.
Warnings
NEOBES® should not be used in patients with serious psychiatric problems or personality disorders.
The use of this drug in patients with neurological problems is not correct.
These patients should not be treated with such drugs.
If you have any of the conditions listed below, be sure to contact your doctor before using this medication.
Prostate hypertrophy
Glaucoma or any obstructive disease of the urinary tract or gastrointestinal tract
Hyperthyroidism (Overwork of the thyroid gland, that is, excessive production of thyroid hormone)
Severe hypertension
Advanced atherosclerosis
Liver or kidney failure
Anorexia (an eating disorder)
Chronic insomnia
Psychopathic personality
Suicidal or homicidal tendencies
During pregnancy or breastfeeding
In combination with other adrenergic or beta-blockers
In combination with MAOI drugs
Heart disease
Hypertension
Diabetes
It is recommended not to stop treatment abruptly unless the presence of a side effect warrants it.
Given its presentation in capsules, an alternative administration regimen can be established that should be adapted to each patient every 3, 4, or 5 days until the interruption.
During treatment, patients may experience reduced reflexes while driving dangerous machinery or driving. Therefore, such activities should be avoided.
If local anesthetic will be applied in your mouth for dental procedures, inform your doctor that you are taking this medicine.
The capsules of this medicine should be swallowed unopened and should not be chewed.
Pregnancy And Breastfeeding
Neobes tablets should not be used by women during pregnancy or breastfeeding.
Other weight loss drugs such as Neobes are not recommended to be used by experts as they may harm the baby during pregnancy.
Effective contraception should be used during treatment in sexually active women of childbearing age. If you are pregnant or planning to become pregnant or are breastfeeding, consult your doctor before using this medicine.
Side Effects Of Neobes Tablets
The following side effects may occur while using Neobes tablets, but these side effects do not occur in everyone:
Irritability
Insomnia
Excitement
Tiredness
Palpitation
Tachycardia
Rhythm disturbances
Dry mouth and mucous membranes
Blushing
Fire
Nausea
Vomiting
Constipation or diarrhea
Rash
Erythema
Dysuria
It should be noted that the above listed side effects are not a complete list. If you notice any adverse effects while using this medicine, contact your doctor without waiting.
Other Drugs And Neobes
Amfeprame, the active ingredient of the drug, should not be used together with monoamine oxidase inhibitors (MAOIs). Because severe hypertensive crises may occur. In addition, administration after or before an MAOI should be at least 14 days apart between the two drugs.
With beta-blockers, it may increase the activity at the level of alpha-adrenergic receptors and increase the risk of side effects associated with their stimulation.
Tell your doctor if you are taking any of the medicines listed below:
Tricyclic antidepressants
reserpine
Phenothiazines
Guanethidine
Methyldopa
Flu medications containing ephedrine
It should be noted that the drugs listed above are not a complete list of drugs that may interact with this drug. If you are even using herbal remedies, discuss this with your doctor.
Alcohol intake should be discontinued during treatment.
Result
The active ingredient of the drug has the same component as Norex. Amfepramone in the drug is not FDA approved and its use is not recommended.
Please do not believe the rumours. You can use a safer medicine or follow a diet program by talking to your doctor. This is a great way to lose weight without risking your health.