Have you heard about ACON? This Finnish manufacturer is renowned for their sturdy and bouncy trampolines.
The company prioritizes safety, durability, bounce and the use of high-quality materials.
But what sets them apart? Let's look into the five things that we've found out.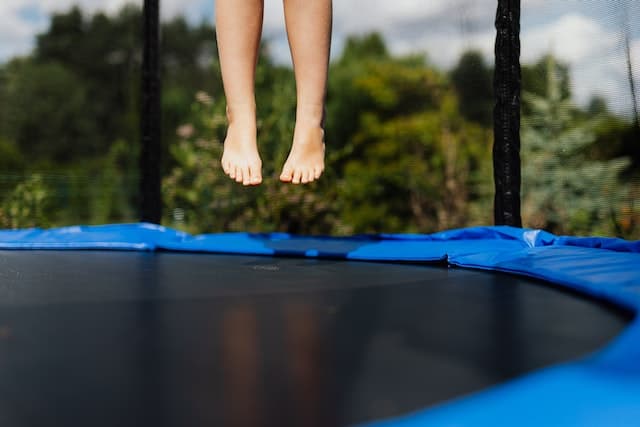 1. Bounce
We cannot talk about any ACON trampoline if we do not talk about the bounce.
This company has made it clear that their main focus is the bounce without compromising safety (which we'll talk about next).
According to the company, the bounce is what makes people come back to the trampoline year after year and even after a decade.
Many who buy trampoline from them tend to rave about the bounce.
Indeed, the company puts their heart and soul into the research and development of finding the perfect bounce.
The bounce should feel safe yet soft, predictable yet high.
This is something that is rare to get when buying from other companies.
2. Safety features and enclosures
As said, there's no fun bounce without safety.
Safety and bounce walk hand in hand at ACON.
In other words, there are no compromises on it.
The safety features they have include, but are not limited to:
Trampoline enclosure with high walls
Safety paddings
Tightly woven trampoline mat and net
Sturdy ladders
Safe and sturdy frame structure
Note that, depending on the model, there also might be additional features to these, such as a trampoline skirt that goes above the springs but below the paddings.
So, make sure to check what safety features the trampoline you are interested in has.
3. Weight Limits
Weight limits are important when looking for a trampoline to buy.
Why? Because it tells a lot about:
Who can jump on it
How sturdy the trampoline is
What the safety testing procedure has been
First off, if the weight limit is low, only kids and adults who do not carry a lot of weight can jump on it whereas if the weight limit is high, everyone in the family can enjoy the trampoline safely. Then there's the question of sturdiness.
If the company claims that there's no weight limit, it usually means that the structure has to be extremely thick and heavy to withstand the weight.
Lastly, there's the safety testing part.
ASTM certificate, for instance, requires the manufacturer to test the trampoline with 4x the max weight recommended.
All trampolines at ACON Canada online store come with no single user weight limit.
Most of them have been safety tested up to 1650 lbs, and they are sturdy enough to withstand every type of jumper as well as harsh weather conditions.
4. Spare Part Availability
A surprising one, yet important! What we've noticed is that many of ACON's competitors either do not provide spare parts online at all or the selection seems to be very limited.
This has instant impacts on the longevity of the trampoline.
Because, let's be real, no matter where you buy a trampoline, at some point, some parts will start to show wear and tear.
It could be after 3-5 years, but still. It's inevitable that it'll happen.
ACON Trampoline has one of the biggest stock of spare parts we've found online.
They promise a 100% spare part guarantee even for their older models, so that you can rest assured that you can use the same trampoline even for a decade.
And, in case the part is not available in their online store, you can always ask the customer support – they'll help you with finding the right part for your ACON.
5. Research And Development
Finally, we come to the main thing that sets them apart from competitors.
The one that is behind all of the other points mentioned in this article.
It's their research and development. Their trampoline lab is absolutely massive.
There, they experiment with new possibilities and try new ideas with a quick turnaround.
They like to test what their customers and community have to say and they also continue on working on the bounce as well as the safety features.
Due to their rigorous R&D, they make sure that they stay on top of the game in the future as well.
What's Your Favorite Trampoline Manufacturer?
Among trampolines, Acon Trampolines stands out.
From their focus on achieving the best bounce to commitment on safety Acon has earned its reputation as a premium trampoline manufacturer.
Do you agree with us? If not, which one's your favorite trampoline manufacturer?
See also: Tips on Treating Male Pattern Hair Loss