Drugs
Advil Cold And Sinus: Uses, Side Effects And More
Advil Cold and Sinus is a cold medicine that contains Ibuprofen 200 mg and Pseudoephedrine HCl 30 mg active ingredient.
These descriptions are updated descriptions and may differ from the descriptions on the package.
If the information written here is not the same as the information on the product, be sure to follow the instructions on the product.
The active ingredients in the drug have analgesic and antipyretic properties.
When to Use Advil Cold and Sinus Tablets?
Advil is often used in the treatment of colds and flu, as we said above.
It can help you treat the following symptoms of the flu and cold:
Fever
Headache
Sine pressure
Nasal congestion
Mild body pain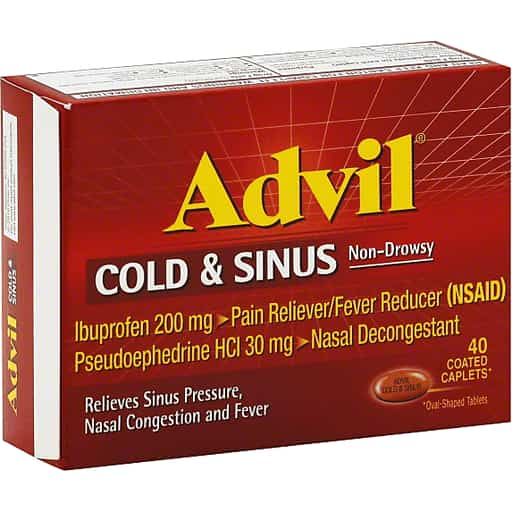 How To Use Advil Cold And Sinus Tablets?
If your doctor has specified a dose, follow the dose your doctor has told you, not the instructions below.
Starting with small doses is always the best choice.
The standard dose for adults and children aged 12 years and over is 1 caplet every 4 to 6 hours.
If symptoms do not improve with 1 caplet, a 2nd caplet can be used.
Unless the doctor says otherwise, more than 6 caplets should not be used in 24 hours.
Advil Cold And Sinus should not be used in children younger than 12 years old.
Side Effects Of Advil Cold And Sinus Drug
May cause serious reactions in people allergic to ibuprofen and aspirin.
If you are allergic to aspirin and take this medicine, you are more likely to experience the following side effects:
Percent swelling
Shock
Skin rash
Skin flushing
Blistering on the skin
Hives
Asthma (wheezing)
feeling unconscious
vomiting blood
Bloody or black stools
Stomach pain that does not go away
Chest pain
Shortness of breath
Weakness in the body
slurred speech
Formation of swelling in the legs
Nervousness, dizziness or insomnia
Skin rash
If you experience any of the conditions listed above, you should stop using the drug and seek medical attention immediately.
If the above-mentioned side effects occur, you may even be experiencing stomach bleeding.
Therefore, this drug should be used with caution.
In addition, the NSAID in the drug can cause stomach bleeding.
People who may be at risk of stomach bleeding as a result of using this tablet are listed below:
People aged 60 and over
Those who use blood thinners (anticoagulants) or steroid drugs
People who have had stomach ulcers or stomach bleeding before
People using prescription or nonprescription NSAIDs (Naproxen, aspirin, ibuprofen, etc.)
People who drink alcohol 3 or more times a day
Using more than the recommended dose
The conditions listed above are those that may cause stomach bleeding after the use of this drug.
Stomach bleeding is not a situation to be taken lightly and if this situation is encountered, you should go to the hospital without waiting.
Incorrect use of Advil Cold and Sinus medicine can even lead to heart attack and stroke.
If you are using any NSAID drugs, you should definitely talk to your doctor before taking this drug.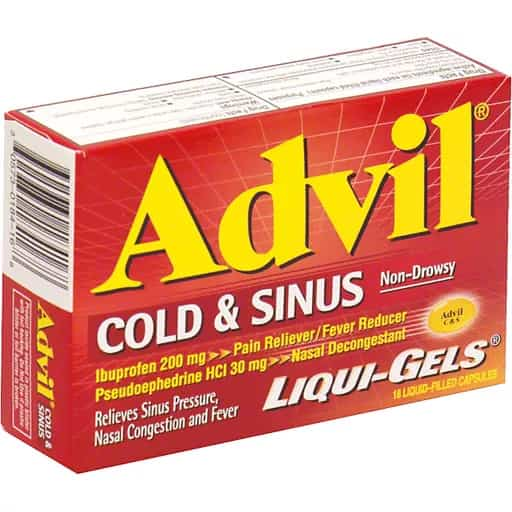 When Should Advil Cold and Sinus Tablets Not Be Used?
Do not use this medicine if you have heart disease, high blood pressure, asthma, kidney disease, liver cirrhosis, diabetes, thyroid disease, prostate gland enlargement or if you have had a stroke.
It should not be used in children under 12 years of age.
People who have an allergic reaction to any pain reliever or antipyretic should not use it.
Do not use if you have had or will have heart surgery.
Do not take this medicine if you are taking a prescription monoamine oxidase inhibitor (MAOI) (certain medicines for depression, psychiatric or emotional conditions, or Parkinson's disease). It can be used with the advice of a doctor 2 weeks after stopping MAOI drugs. If you do not know whether your prescription medicines contain MAOIs, consult your pharmacist or doctor before using Advil Cold medicine.
Avoid using this medicine if you are at risk of bleeding in your stomach.
Do not use this medicine if you have had side effects and problems with antipyretic or pain reliever medicines.
Do not use if you have heartburn or have had this problem before.
If you are under the supervision of a doctor for any illness
If you are taking diuretic drugs
Do not use Advil Cold And Sinus if you are using a medication containing pseudoephedrine or another nasal decongestant.
If you are taking alpirin for heart attack or stroke (Ibuprofen may reduce the effect of aspirin)
Using any other medication
Your fever does not go down and lasts more than 3 days
Warnings
If you have stomach problems, you can consume this medicine with milk or food.
If nasal congestion persists for more than 7 days, If symptoms worsen rather than improve, talk to your doctor.
Pregnancy And Breastfeeding
It is not recommended to use this drug as there is no detailed study on how it affects pregnant women.
If you are still considering using it, talk to your doctor about this.
Especially in the last 3 months of pregnancy, ibuprofen should not be used because it can cause problems in the unborn child and complications during delivery.
In case of overdose, seek medical help or contact the Poison Control Center.
Other Informations
It should be kept out of reach of children.
Store at room temperature (20-25 °C).
It is strongly not recommended to store at 40 °C and above.
Before use, be sure to thoroughly read and comply with the texts on the cardboard box.
Inactive ingredients are listed below:
Acetylated monoglycerides
Carnauba wax
Colloidal silicon dioxide
Corn starch
Croscarmellose sodium
Methylparaben
Microcrystalline cellulose
Pharmaceutical glaze
Pharmaceutical ink
Povidone
Pregelatinized starch,
Propylparaben
Sodium benzoate
Sodium lauryl sulfate
Stearic acid
Sucrose
Synthetic iron oxides
Titanium dioxide
If you have any questions about the use of this medicine, you can call 1-800-88-ADVIL toll-free.
It's not always a good idea to take medicine for the common cold. You can drink Gordolobo Tea instead.
You can also read our article about DayQuil, an alternative to Advil Cold And Sinus medication.
Sources: