Drugs
DayQuil And Alcohol: Everything To Watch Out For
The active ingredients of DayQuil are acetaminophen, dextromethorphan and phenylephrine. It is a pain reliever, cough suppressant and decongestant.
It is used to treat coughs, colds, and nasal congestion.
It should be noted that this drug does not cure the infection.
This medicine may also be used for other purposes.
Discuss all the questions you have with your doctor.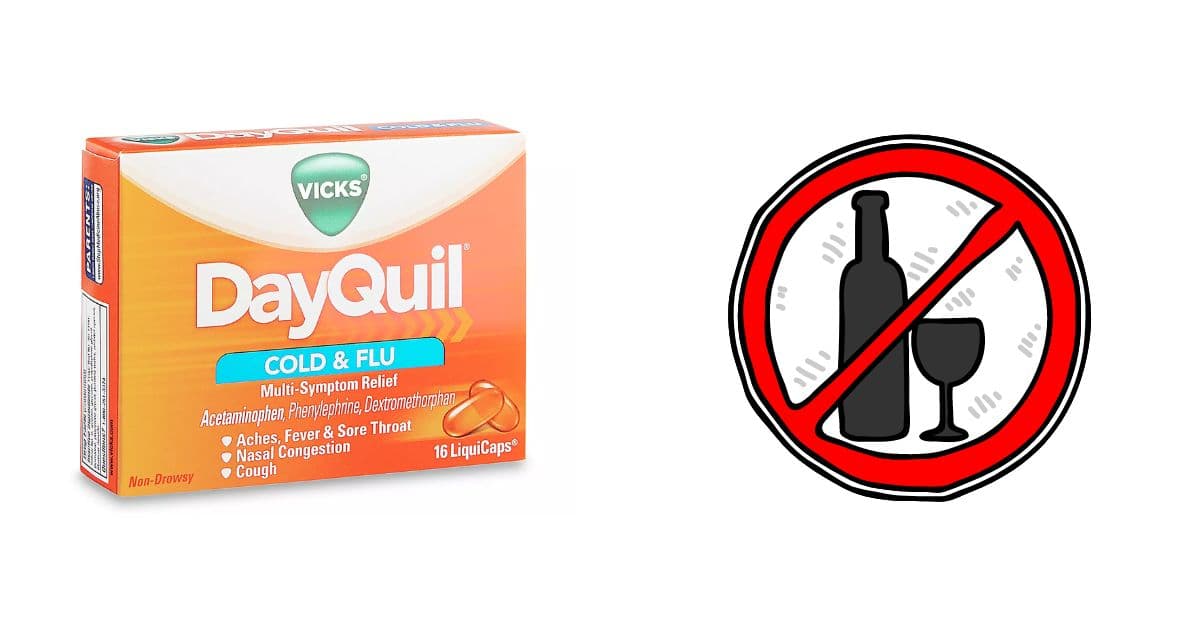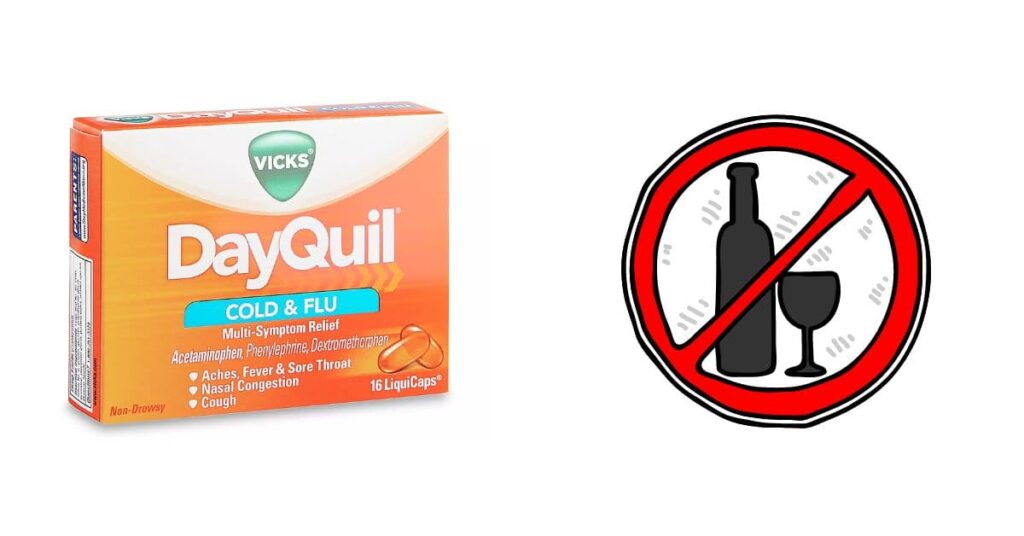 What Should I Tell My Healthcare Provider Before Taking Dayquil?
If you are going to use DayQuil, tell your doctor if you have any of the conditions listed below.
Asthma
Diabetes
Heart disease
High blood pressure
If you drink alcohol frequently
Liver disease
If you have taken an MAOI such as Eldepryl, Carbex, Marplan, Nardil or Parnate in the past 14 days
thyroid disease
Trouble urinating
if you have ever had an unusual or allergic reaction to dextromethorphan, acetaminophen, phenylephrine, other medicines, foods, dyes or preservatives
If you are pregnant or trying to become pregnant
Breastfeeding
DayQuil And Alcohol
This situation is a bit complicated. If you allow me, I would like to explain it to you.
We stated that there are 3 active ingredients in the drug.
The name of the first ingredient is acetaminophen.
Typically, a normal dose of acetaminophen (no more than 4,000mg per day) after a night of drinking is very unlikely to cause liver damage.
However, heavy alcohol use or very frequent drinking (more than one drink per day for women or more than two drinks per day for men), along with repeated daily doses of acetaminophen, can damage your liver.
Dextromethorphan, the second component in the drug, should not be used with alcohol.
Concomitant use of the dextromethorphan component with alcohol may cause nervous system side effects such as dizziness, drowsiness and difficulty concentrating.
Drinking with alcohol can sometimes even cause deterioration in thinking and judgment.
As a result, you should avoid or limit the use of alcohol while being treated with DayQuil.
Now that we have analyzed the two components, we understand that this drug should not be used with alcohol. Let's take a look at the last ingredient, phenylephrine.
Consuming alcohol with the Phenylephrine component can cause confusion, dizziness and an increased risk of falls.
How should I use DayQuil?
Take DayQuil orally with a glass of water.
Make sure you follow the instructions in the medicine carefully.
Do not crush, cut, or chew the medicine.
Be sure to use this medicine at regular intervals.
Do not take more often than instructed by the doctor or on the package.
Always talk to a doctor before using this medicine in children.
This drug may be prescribed to children younger than 12 years old while meeting certain conditions but requires precaution.
If you take too much of this medicine, contact a poison control center or emergency room immediately.
If you forget the dose, take it as soon as possible. If it's time for the next dose, skip the missed dose and continue taking your normal dose.
Do not take a double dose to make up for the missed dose.
Other Drugs And DayQuil
Do not take DayQuil with any of the following medicines:
Cocaine
Ergot alkaloids such as ergonovine, dihydroergotamine, ergotamine, methylergonovine
MAOIs such as Eldepryl, Carbex, Marplan, Nardil, and Parnate
dextroamphetamine (or other stimulant drugs)
DayQuil may also interact with the following medications:
Alcohol
Atomoxetine
Atropine
Bretylium
Digoxin
Furazolidone
Imatinib
Isoniazid
linezolid
Maprotiline
Mecamylamine
Midodrine
Chest pain medications such as nitroglycerin, isosorbide dinitrate
Medicines for anxiety, depression, or psychotic disorders
Sleeping medications during surgery
Other medicines for cough, cold, or allergies
Other medicines containing acetaminophen
Procarbazine
St. John's Wort
It should be noted that the list listed above is not a complete list. If you are taking any medication, talk to your doctor before taking this medication.
Also tell your doctor if you smoke, drink alcohol or use illegal drugs. Some substances may interact with this drug.
What Should You Pay Attention To When Using DayQuil?
Tell your doctor or health care professional if your symptoms do not start to improve or if they get worse after using the medicine.
Tell your doctor if you have pain, stuffy nose or cough that lasts longer than 7 days or worsens.
Call your doctor if you have a sore throat that lasts for more than 2 days or gets worse.
Using this medicine with other medicines containing acetaminophen may increase the risk of side effects.
If you think you have taken too much acetaminophen, seek medical attention right away.
Too much acetaminophen can cause liver damage.
Our article on neotrex capsules used for weight loss may also attract your attention.