Drugs
Esbelcaps: Uses, Side Effects, Risks, Doses And More
Esbelcaps capsules is an anorexigenic drug consisting of diazepam and fenproporex that is used to reduce appetite when you are suffering from very serious weight problems.
For this drug to work, a person must follow a low-calorie diet during treatment.
This diet should be structured by a specialist who determines which foods can be consumed in these situations.
Esbelcaps is frequently used in the treatment of the following diseases:
Obesity: It is a disease that occurs when a person has an excessive amount of fat in his body due to reasons such as lack of exercise, environment, genetics or personal nutrition. This is something that can increase the risk of different diseases and health problems such as diabetes, blood pressure, heart disease, etc. A person with a body mass index (BMI) greater than or equal to 30.0 is considered obese.
Exogenous obesity: This type of obesity occurs when a person follows a diet consisting of foods that are very high in calories. As in the previous case, this condition can develop different diseases and health problems.
Fenproporex, acting on the central nervous system and certain areas of the brain, activates the areas where the feeling of fullness occurs while eating and reduces the feeling of appetite.
In addition, it contributes to the treatment of obesity by increasing the destruction of lipids.
On the other hand, diazepam reduces the activity of neurons at the brain level, something that creates an anxiolytic effect.
This drug is made by Medix Products laboratories with the following presentation:
Capsules containing 6 mg of diazepam and 20 mg of fenproporex: Available in boxes of 30 units each.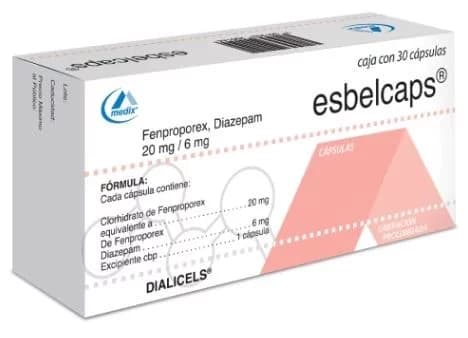 How To Use Esbelcaps?
It should be noted that the use and dosage should always be prescribed by a doctor.
This drug should not be used in children under 12 years of age.
Capsules should be taken with a glass of water and always 30 to 60 minutes before breakfast, unless the doctor says otherwise. In addition, it is important that they are not opened or chewed, they should be swallowed whole.
Warnings
This medicine should not be used in the conditions listed below:
Glaucoma
Prostate hypertrophy
Lack of appetite
Psychopathic personality
Chronic insomnia
Kidney or liver failure
High blood pressure
Murder or suicidal tendencies
People with any disease that obstructs the urinary tract or gastrointestinal tract
Allergic reactions may occur in case of hypersensitivity to diazepam, fenproporex or any component of this drug.
During treatment with Esbelcaps, the intake of alcoholic beverages should be avoided as they may interfere with the effect of the drug and increase the appearance of certain side effects.
This article does not contain all warnings. Don't hesitate to get in touch with your doctor for full advice.
See also: Why Can't I lose Weight? 10 Tips To Lose Weight
Other Drugs And Esbelcaps
Mixing this medicine with the medicines listed below is not recommended:
Other medications such as monoamine oxidase inhibitors (MAOIs) such as phenelzine, isocarboxazid, tranylcypromine, or selegiline
The effect of treatment may be affected if commonly used anti-flu drugs such as franol, and aspirin complex are consumed.
Anticholinergics such as bisolfren or ilvico, dicyclomine, pirenzepine, tiotropium, scopolamine or flavoxate, and oral contraceptives such as norethindrone, ethinylestradiol or levonorgestrel.
Pregnancy And Breastfeeding
Esbelcaps should not be used during pregnancy because diazepam, one of the active ingredients of this drug, can be toxic to the fetus, especially in the first and third trimesters of pregnancy.
Therefore, the administration of this drug at this stage should be under medical supervision if the specialist deems it necessary after evaluating the future risks and benefits.
According to scientific studies, diazepam passes into breast milk, but it is thought that it does not cause any harm to the baby (1). However, there is not much research on this component. For this reason, if you are going to consume this medicine during breastfeeding, talk to a doctor.
What Are The Side Effects Of Esbelcaps?
The following side effects may occur with the use of Esbelcaps, but these side effects do not appear in everyone:
Palpitation
Gastrointestinal spasm
Diarrhea
Nausea
Vomiting
Dizziness
Headache
It should be noted that the above-listed side effects are not a complete list.
If these effects occur frequently, it is extremely important to stop treatment and see a doctor as soon as possible.
You may also notice our article on acxion pills used to lose weight.