Health
Hybrid Denture: Why Is It So Popular? Are There Any Risks?
Hybrid dentures offer many functional, aesthetic, and psychological advantages to edentulous patients compared to conventional full dentures. This type of prosthesis has many advantages such as preparing highly aesthetic restorations, reducing the stress on the prosthesis in the mouth, and distributing it evenly.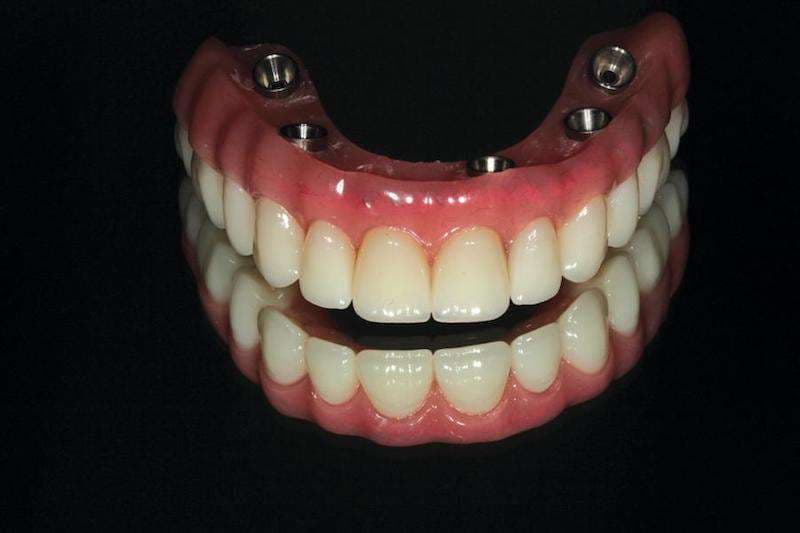 What are the Benefits of Hybrid Dentures?
Implant-supported hybrid prostheses have been shown to provide better support for soft tissue when compared to conventional fixed prostheses. With the developing technology, hybrid prosthesis designs are made in digital environment and prosthetic materials are developed. Soft tissue loss can be eliminated more easily and interdental spaces can be filled aesthetically by using pink porcelain for the gingiva.
For Which Patients Are Hybrid Prostheses Applied?
Hybrid dentures can be easily used in both complete and partial tooth deficiencies.
Such prostheses are generally used in the following situations:
In the treatment of bone and soft tissues of patients with moderate and severe bone resorption
In patients with excessive bone loss as a result of tumoral resection
In irregular alveolar bone resorption
In cases where it is desired to provide upper jaw lip support
The first criterion to be taken as a basis in deciding the construction of this type of prosthesis is the distance between the jaws. In addition, lip support, high smile line in the upper jaw, lower jaw lip line in speaking are other aesthetic parameters to be considered.
Can Patients Remove Hybrid Prostheses Anytime They Want?
Hybrid prostheses are fixed prostheses that cannot be removed for patients. It can only be removed by the physician when desired and deemed necessary.
How to Care for Hybrid Dentures?
First of all, patients should continue to brush their teeth regularly. In addition, patients are recommended to use an interface brush and superfloss threads to clean under the prosthesis.
Patients can also provide oral care using fast, effortless, inexpensive ultrasonic and sonic denture cleaning devices. The use of a mouthwash, known as an air brush, also provides convenience to patients.
In How Many Sessions Are Hybrid Prostheses Applied to Patients?
It is no different from a classical prosthesis treatment. At least 5-6 consecutive sessions are applied to the patients. Finally, after the prosthesis placement process is completed, you are asked to visit your dentist for a control session.
Do Patients Need To Come For Regular Check-ups After Hybrid Prostheses Are Fitted?
It is certainly a very important situation for the long-term success of this prosthesis and implants. It is reported that patients come to their controls regularly between 6 and 12 months, and they are absolutely required to come to these controls.
Can There Be Any Deformation In The Bone Structures Of Patients Using Hybrid Prostheses?
Not in a normal situation. In fact, thanks to the implant placed in the bone, bone resorption, which may occur in that area over the years, is stopped. However, if the patient does not pay attention to oral hygiene and does not come to regular controls, bone loss can be seen around the implant under the prosthesis, as in normal teeth.
What Is The Lifespan Of Hybrid Dentures?
It is not possible to say an exact time for any of these treatments. However, taking care of the patient's oral health and regular visits will ensure that a properly made prosthesis can be used for many years or even a lifetime without any problems.
Does Smoking Affect The Functionality Of Hybrid Dentures?
Yes. It is known that smoking has an effect on mucous membranes, soft tissue, blood flow, wound healing, saliva quality and many other things in the mouth. Since smoking will affect the long-term survival and success of the implant in the mouth, it also indirectly affects the prosthesis.
Is It Necessary To Brush The Teeth Since There Is No Decay In Hybrid Dentures?
It should definitely be brushed because hybrid prostheses do not rot due to the material from which they are made, but they can be damaged unless they are well cared for. Apart from that, the mouth is a living tissue. Just as our gums bleed when we do not brush our teeth and there is bone loss afterwards, the same is true for all types of prosthesis made on implants.
The denture does not rot, but as long as it is not brushed, the food residues accumulated both create a bad smell and cause infection in the gingiva under the denture. Unfortunately, the advanced stage of this goes up to bone loss.
Is Hybrid Prosthesis Application A Painful Procedure?
Prosthesis application is not a painful procedure. Only some patients can be sensitive to the soft tissue while putting on and removing the pieces during the sessions, as well as the prostheses right after the surgical operation.
Are There Any Side Effects Of The Materials Used In Hybrid Prostheses?
No, it does not have any side effects. The materials used in the mouth are tissue-friendly materials that have been studied before. Generally, current aesthetic infrastructure materials such as some metal alloys, titanium, zirconium and PEKK are used. Only a few patients may be allergic to metal alloys. Hybrid prostheses from other materials are also made for these patients.
You can read this article to learn about habits that harm your teeth.
Did You Like This Article?
Please let us know if our articles are readable and informative. Your feedback is very important to us.