Drugs
Ovasitol: What Are The Side Effects? How To Use?
Ovasitol is an unflavored inositol powder packaged in individual sachets for convenience and easy dosing, making it a popular choice among individuals seeking to improve their reproductive and metabolic health, particularly those with PCOS or other hormonal imbalances.
Each Ovasitol powder package you will use contains 2000 mg of vitamin in a 40 to 1 ratio of Myo-inositol and D-chiro-inositol, which the body naturally produces.
Some studies have found that the inositol in this drug supports healthy hormone levels, menstrual cycle and ovarian health.
The drug is manufactured in the United States and has been independently tested and approved by the NSF in a cGMP registered facility.
How To Use Ovasitol?
Ovasitol comes as an unflavored, packaged powder for single use.
It is currently the only tested and approved inostil supplement.
Mix 1 pack or 1 measuring spoon in water that is not too cold or too hot and drink with food.
The recommended use is 2 doses per day and be sure not to exceed 2 doses per day.
Morning and evening doses would be the best choice.
This drug is a gluten-free, vegan, 100% pure inositol drug that does not contain dyes and additives.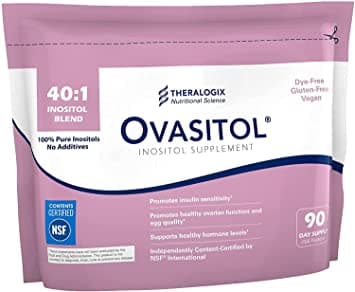 What Is Inositol?
Inositol is a known substance in the form of a B-complex vitamin that the body needs for better health.
Another name for this type of vitamin is vitamin B8.
Inositol is found in almost all body tissues.
It is a very necessary supplement, especially for women in the reproductive period.
This vitamin, which is useful in many ways, has important contributions to the body.
Inositol has a feature that can be taken into the body through most of the edible carbohydrates.
As an additional vitamin supplement, the vitamin inositol has many benefits to the body.
This vitamin, which is useful in many ways, has important contributions to the body.
What Are The Benefits Of Inositol?
These benefits can be listed as follows:
Vitamin inositol helps balance important chemicals in the brain.
It can help us reduce the risk of panic attacks.
It has a structure that is good for depression.
It has positive effects on mental health.
Why Is Ovasitol Supplementation Different?
Ovasitol inositol is the only inositol supplement that has been independently verified for content and purity by a non-profit certification program (NSF® International).
Taken alone, it provides more benefits than taking a combination of Myo-inositol and D-chiro inositol.
Each package contains 2,000 mg of Myo-inositol and 50 mg of D-chiro-inositol.
If you have burning in your vagina during your menstrual period, this article may help you.
Who Can Use Ovasitol?
It may be of benefit if used by women trying to increase their normal lipid and normal hormone levels or their menstrual cycles.
Women trying to conceive can also try Ovasitol.
When Does Ovasitol Act?
It should be used regularly for at least 3 months to see menstrual benefits.
It should be used regularly for at least 6 months to see the benefits on hair or skin.
If you are using this drug to increase ovarian health, take it regularly for at least 6 weeks.
Be sure to talk to your gynecologist to see how it affects your health.
Can I Use Ovasitol During Pregnancy?
Yeah. There is no harm in using the right dose of Ovasitol during pregnancy.
There are a number of studies showing that inositol intake during pregnancy is beneficial.
However, to avoid any risk, do not use this medicine without talking to your doctor if you are pregnant.
It is generally safe to use this medicine while breastfeeding.
What Are The Side Effects Of Ovasitol?
There are no reports of side effects of Ovasitol cream so far.
The reason for this is that the inositol in the Ovasitol drug does not usually cause side effects in the body when taken at a normal dose per day.
However, like any medicine, you may be sensitive to the ingredients in this medicine.
The side effects that may occur in the case of the use of Ovasitol tablets are listed below:
Rash
Itching
Swollen or peeling skin
Wheezing breath
A feeling of tightness in the throat or chest
Difficulty in breathing, speaking and swallowing
Hoarseness
Swelling of the mouth, face, lips, tongue and throat
Feeling lightheaded or sleepy
Feeling abnormally thirsty
Feeling abnormally hungry
Frequent urination
Symptoms of high blood sugar
Breath that smells like fruit
Dark urine
Stomach pain
Diarrhea, vomiting
Change in skin color
Muscle pain and weakness
Dizziness, fainting
Chest pain, chest pressure
Sweating abnormally
Shortness of breath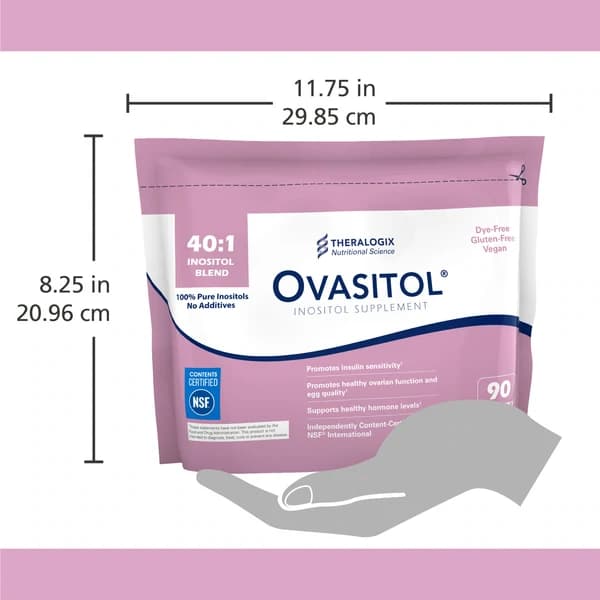 Does Ovasitol Make You Lose Weight?
Some studies have found that inositol may help with weight loss.
Studies have shown that women who took inositol lost weight compared to those who took a placebo.
If you are going to use this drug to lose weight, you should definitely talk to your doctor about this situation.
Concomitant Use Of Ovasitol With Other Dietary Supplements
It is generally safe to take Ovasitol with other dietary supplements.
However, if you are going to use Ovasitol and DHEA in combination, be sure to inform your doctor about this.
DHEA may raise testosterone levels and negate the benefits of inositol supplementation in certain people.
Using Ovasitol With Prescription Drugs
Ovasitol is generally safe to use with most prescription medications.
But you can still tell your healthcare professional about the prescription drug you are using.
Especially if you are using prescription medication related to blood sugar, be sure to talk to your doctor about this situation.
If you are using thyroid medication, you can take the medication at different time intervals.
Thyroid is a drug that is generally recommended to be taken on an empty stomach.
You can take Ovasitol with a meal.
If you are taking the thyroid medicine on an empty stomach in the morning, take Ovasitol with or after breakfast.
What Is The Price Of Ovasitol Powder And Where To Buy?
You can buy THERALOGIX Ovasitol Inositol Powder 90 Days Product easily and safely with this link.
Important Note
If you are going to use this medicine, talk to your doctor and start using it after that.
It should be noted that this information is for informational purposes only and does not replace the advice the doctor will give you after the examination.
Ovasitol is not designed to treat, diagnose, cure or prevent any disease.
Ovasitol is a drug that was last tested and approved by NSF International in 2020.
It may attract your attention in our article about Ipecac Syrup, which is used in case of poisoning.
Result
Ovasitol is a dietary supplement that promotes menstrual regularity and normal ovarian function, making it a popular choice for women seeking natural support for their reproductive health.
This medicine convenient single serving packets make it easy for women to measure and consume the recommended dosage for promoting menstrual regularity and normal ovarian function, without any hassle of measuring or mixing.
Ovasitol is safe to continue throughout pregnancy as no ill effects have been observed on pregnant women.
Ovasitol is a dye free, inositol-based supplement that is commonly used to improve fertility, metabolic health, and hormonal balance, particularly in individuals with PCOS, without the use of artificial colors or additives.
Ovasitol is independently verified for content accuracy and purity by third-party testing, ensuring that the supplement contains the correct amounts of myo-inositol and D-chiro-inositol and meets high standards for quality and safety.
Did You Like This Article?
Please let us know if our articles are readable and informative. Your feedback is very important to us.