Drugs
Paricalcitol: Usage, Side Effects, Risks And More
Paricalcitol contains a synthetic form of active Vitamin D and belongs to the vitamin D group of drugs.
Vitamin D is activated in the body by a two-step process that begins in the liver and completes in the kidneys.
Active vitamin D is essential for the normal functioning of many tissues in the body, including the kidneys and bones.
Paricalcitol provides a source for active vitamin D when the body cannot produce enough of it.
Paricalcitol is used for the prevention and treatment of high parathyroid hormone levels in the blood (secondary hyperparathyroidism) associated with low active vitamin D levels in chronic kidney disease undergoing hemodialysis.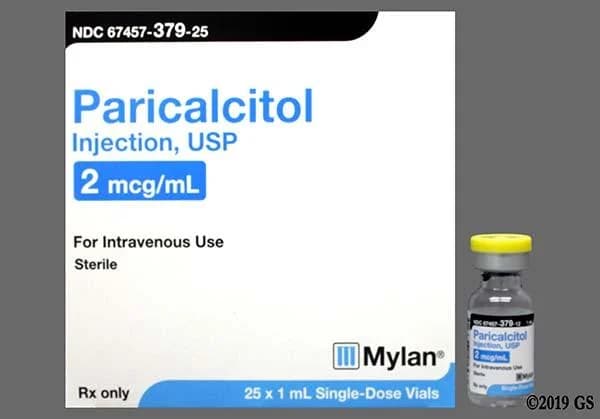 Precautions While Using Paricalcitol
Do not use paricalcitol in the following conditions:
Allergic (hypersensitive) to paricalcitol or one of the excipients in the drug
if you are.
If you have very high levels of calcium or vitamin D in your blood.
Your doctor will be able to tell if these conditions apply to you.
Use paricalcitol with caution in the following conditions:
Phosphate-binding drugs may be necessary to control phosphorus levels. If you are taking a calcium-derived phosphate binder, your dose may need to be adjusted by your doctor.
It is important to inform your doctor if you are being treated for a heart condition with medicines containing certain digitalis derivatives. This is because digitalis derivatives can cause a decrease in calcium levels in your blood and with it increase the occurrence of unwanted effects associated with this medicine.
Your doctor will need to take blood tests to monitor your treatment. Levels of substances such as parathyroid hormone and calcium in your blood may require your doctor to change the dose of paricalcitol.
If the calcium in the blood becomes too high, the doses of other drugs may need to be lowered.
If blood calcium remains high for a long time, other medical problems may occur.
It is important to limit the amount of phosphorus in your diet.
Propylene glycol in the composition of paricalcitol can cause alcohol-like symptoms.
If these warnings apply to you, even at any time in the past, please consult your doctor.
Pregnancy And Breastfeeding
Consult your doctor or pharmacist before using this medication.
There are no adequate and well-controlled studies in pregnant women for paricalcitol.
The potential risk for use in humans is unknown, therefore paricalcitol should not be used unless clearly necessary.
If you realize that you are pregnant during your treatment, consult your doctor or pharmacist immediately.
It is not known whether paricalcitol is excreted in human milk.
If you are a breastfeeding mother, your doctor will decide whether to discontinue breastfeeding or to discontinue the drug, taking into account the importance of the drug to you.
Concomitant Use With Other Drugs
Inform your doctor if you are using the following drugs;
Drugs containing digital derivatives used in certain heart diseases: They may increase the undesirable effects of this drug.
Drugs containing phosphate or vitamin D: There is an increase in calcium in the organism and an increase in the risk of calcium-phosphorus ratio.
Products containing calcium, aluminum or magnesium (eg antacid, phosphate binder): They can increase the levels of these compounds in the organism.
Diuretic drugs known as thiazide: They can increase calcium levels in the blood.
Medicines containing ketoconazole used to treat fungal infections.
Consult your doctor or pharmacist before using any medicine.
If you are currently using or have recently used any prescription or non-prescription drugs, please inform your doctor or pharmacist about them.
How To Use Paricalcitol?
The appropriate dose of this drug should be determined for each individual patient.
Your doctor will use some laboratory test results to help determine your dose.
When treatment with paricalcitol is initiated, there will be a dose adjustment period.
The dose of paricalcitol you use can be changed frequently according to your response to treatment.
You should not use paricalcitol more often than every other day at any time (any interval during dialysis).
Application route and method:
Paricalcitol will be given by the doctor or nurse during dialysis treatment.
Paricalcitol will be given through the bloodline that connects you to the machine.
Injection will not be required as paricalcitol can be added directly to the tube used for your treatment.
Use in children:
Data in pediatric patients are limited and there are no data for children under 5 years of age.
The pharmacokinetics of paricalcitol have not been studied in pediatric patients under 18 years of age.
Use in the elderly:
There is limited experience with patients 65 years of age and older using paricalcitol, but studies have shown no differences in efficacy or safety between patients 65 years and older and younger patients.
Special use cases:
No dosage adjustment is necessary in patients with mild to moderate hepatic impairment.
The effect of severe hepatic impairment on paricalcitol pharmacokinetics has not been studied.
Kidney failure:
Hemodialysis has no fundamental effect on paricalcitol excretion.
However, when compared to healthy individuals, the clearance of the drug from the blood decreases and the duration of stay in the body increases in patients with chronic renal failure.
If you have the impression that the effect of paricalcitol is too strong or too weak, talk to your doctor or pharmacist.
If you have used more than you should use paricalcitol, talk to a doctor or pharmacist.
Overdose of paricalcitol can lead to hypercalcemia (high calcium level), hyperphosphatemia (high phosphate level), and excessive suppression of parathyroid hormone levels and require immediate attention.
Paricalcitol is not eliminated from the body by dialysis.
If this happens, contact your doctor.
Do not take a double dose to make up for forgotten doses.
Because paricalcitol is administered by a doctor or nurse during dialysis, your doctor will decide when to stop your treatment.
Side Effects Of Paricalcitol
Like all medicines, paricalcitol can cause side effects, but not everyone gets them.
If any of the conditions listed below occur, stop using paricalcitol and tell your doctor immediately or go to the nearest hospital emergency department:
Shortness of breath
Difficulty in breathing and swallowing
Wheezing
Rash and itchy skin or hives (urticaria)
Swelling of the face, lips, mouth, tongue and throat.
These are all very serious side effects.
If you have one of these, you have a serious allergy to paricalcitol.
You may need emergency medical attention or hospitalization.
All of these very serious side effects are very rare.
Common side effects are listed below:
Headache
Strange taste in your mouth
itchy skin
low level of parathyroid hormone
high levels of calcium in the blood (feeling sick or being sick, constipation or confusion); high levels of phosphorus in the blood (likely no symptoms but can make bones more fragile)
Fire
Uncommon side effects are listed below:
Allergic reactions (shortness of breath, wheezing, rash, itching or swelling of the face and lips); itchy blisters
Blood infection; decrease in the number of red cells (anemia – feeling tired, shortness of breath, pale appearance); decrease in your white blood cell levels (an increased risk of getting an infection); swelling of the neck, armpit and/or groin glands; increased bleeding time (blood does not clot quickly)
Heart attack; stroke; chest pain; irregular/fast heartbeat; low blood pressure; high blood pressure
Coma (a state of deep unconsciousness in which a person cannot respond to his environment)
Abnormal tiredness; weakness; dizziness; fainting
Pain at the injection site
Pneumonia (lung infection); fluid in the lungs; asthma (wheezing, coughing difficulty breathing)
Throat ache; common cold; fire; symptoms suggestive of flu; pink eye (itchy/burred eyelid); increased pressure in the eye; Earache; nose bleeding
The twitches; confusion, sometimes serious (delirium); agitation (feeling tense, anxious); irritability; personality disorders (not feeling like yourself)
Tingling or numbness; decreased sense of touch; sleep problems; night sweats; muscle spasms in the arms and legs, even during sleep
Dry mouth; thirst; nausea; difficulty swallowing; vomiting; loss of appetite; weight loss; heartburn; diarrhea and abdominal pain; constipation; bleeding from the rectum
Erectile dysfunction; breast cancer; vagina infections
Breast pain; back pain; joint/muscle pain; feeling of heaviness (oedema) due to generalized swelling or localized swelling of the ankles, feet and legs; abnormal way of walking
Hair loss; excessive hair growth
Increase in liver enzyme; high levels of parathyroid hormone; high potassium levels in the blood; low levels of calcium in the blood; abnormal lab tests
If you experience any side effects not mentioned in this article, inform your doctor or pharmacist.
Our article on glycine may also attract your attention.
Did You Like This Article?
Please let us know if our articles are readable and informative. Your feedback is very important to us.